Since 2011, culinary trend spotters have cited Peruvian cuisine as the "Next Big Thing." Peru, like the United States, has benefited gastronomically from an influx of cultures. Spanish, Japanese, West African and Chinese cuisines have mixed with the native Andean culture. Add to this the bordering Humboldt Current, an extraordinary ecosystem where almost 20 percent of the world's fish catch originates, and, of course, native foods like the 3,000 varieties of potatoes, native chilies and grains. The result is a stunningly flavorful cuisine that is at once ancient and completely up-to-the-minute.
Restaurateur and Peruvian expat Julian Herrera believed in his native foods more than a decade ago, when he worked in the kitchen of an Italian restaurant. He set his sights on a mountaintop, a Peruvian one. In 2009, he and wife Nora Linares opened Machu Picchu on Independence Boulevard. But by August 2012, due to road construction, he had relocated to Pineville.
Machu Picchu is now situated in a nondescript strip shopping center away from both highways 51 and 521. Once inside, though, a palpable warmth envelopes you. Beyond the entryway is a large windowless 170-seat dining room with one wall devoted to a panoramic landscape shot of Machu Picchu, and a large-format television screen. Peruvian alpaca fur hangings dot the other walls. Near the front is the pastry counter and, to the side, a small separate bar area. A sense of fun, kitsch, as well as authenticity emanates.
click to enlarge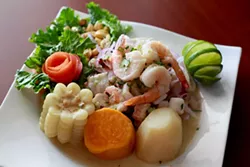 Machu Picchu's menu is familiar to those who enjoy the Peruvian play with acidity and spice, stir-fry and charcoal grilled. Among the first-rate offerings is the ceviche, a dish that cries out for warm weather and is always the test for any kitchen. Herrera uses Peruvian seafood exclusively. The Ceviche Mixto is a tangle of firm-textured fish, octopus, scallops, shrimp, slices of calamari and clams with onion and rocoto chilies. The dish is sided with sweet potato, white potato, choclo (large-kernel Peruvian corn), and cancha, a crispy corn kernel snack food that is the traditional accompaniment to ceviche. (Herrera imports many of his vegetables from Peru, too.) The result is the perfect balance of salt, heat, acidity and umami. The spoon on the plate is used to capture the leche de tigre, the juice.
Rocoto chilies also star in a sauce with mayonnaise and lime juice offered as an additional sauce for the rotisserie chicken sandwich served on house-made Peruvian-styled French bread. Among the standouts on the starter list are the banana-leaf-wrapped tamales and the anticuchos: skewers of beef heart that are succulent, yet peppery, with a spritz of lime. The Peruvian national dish Lomo Saltado, a history-on-a-plate entrée, is a Chinese-inspired stir fry with slivers of tender beef sautéed with peppers, onions and soy on a bed of white rice. The lengthy menu has more than 20 seafood entrées, and more common dishes such as aji de gallina (chicken stew), rotisserie chicken, cau-cau (tripe), and a traditional breakfast served all day. The wait staff is attentive and admirably well-versed in their chef's recipes.
The beer list includes two Peruvian beers: the pale golden Franca and slightly deeper Tres Cruces. Currently, Herrera is looking into a full ABC license now that pisco, a white Peruvian brandy essential for pisco sours, is on the newly released North Carolina ABC list.
Son Eduardo Herrera is in charge of the inexpensive and delicate desserts, which change regularly with the largest selection on the weekends. The mil hojars (layers of puff pastry filled with dulce de leche), alfajores (filled cookies), and picarones (squash and sweet potato doughnuts covered in syrup) are both pretty to look and delicious to eat.
Since chefs across the country have been drawn to novo-Andino cuisine, international celebrity chef and Lima-born Gastón Acurio now claims that soon ceviche will be as popular as sushi. That's an interesting choice since some believe that sushi, and Japanese cuisine in general, is the appropriate gateway to access Peruvian cuisine, as many Andean dishes are overlaid with Japanese elements. However, the kitchen at Machu Picchu has not embarked on putting a 2013-spin on Andean techniques and flavors. What it does do well is present straightforward, flavorful Andean fare to explore.