Montford Drive, despite its pedigreed name and side-street reality, has been a trendy destination for the past five years or so. The unassuming bar scene has been paired with kitchens offering better-than-average bar food menus. But it remains a neighborhood in flux. In August, a new kid arrived on the block: the 60-seat Maverick Rock Taco. For those keeping track, this space once housed 15 North Roadside Kitchen.
The inspiration for Maverick came from Austin, Texas, says partner and chef Angelo Kaltsounis, of the Xenia Hospitality Group. Austin, of course, has a vibrant live-music scene, an abundance of Tejano/Mexican/Tex-Mex food, and kitschy food trucks. Kaltsounis' Xenia group also owns Ilios Noche (CL Best New Restaurant 2004), Nolen Kitchen (CL Best New Restaurant 2006) and Big View Diner. Kaltsounis, a graduate of the Culinary Institute of America in Hyde Park, N.Y., is a rare second-generation Charlotte restaurateur. His parents were co-owners of the Landmark Diner, still owned by Kaltsounis' extended family.
At Maverick, the galvanized metal wainscoting, walls of old brick and a rustic American flag painted on reclaimed wood lend to the biker-bar ambiance. In the bar area, parts of a Harley emerge from one wall, while overhead, Christmas tree lights glow and a portrait of the Dos Equis man looks out from his gilded frame. The beer list includes national, regional and local craft beers on tap and in cans and bottles. The current Charlotte brews on tap are from Olde Mecklenburg Brewery and Birdsong Brewing Co., but the restaurant has also carried tap beer from NoDa Brewing Company and Four Friends Brewing. The bar list includes a selection of tequilas, beer cocktails, other cocktails, sangria and a handful of wines.
The black walls in the dining area at back are spray-painted with rock bands, but even fun, name-the-musicians table games couldn't give this room much ambiance. The owners plan to punch out the windows and replace them with garage doors that will open onto a patio. That will help.
Kaltsounis says the menu is designed to highlight flavors found in Austin — fresh ingredients and flavorful food combinations. The menu is a creative representation of this concept, with whimsical riffs on tortas, tacos, burritos, salads and sides.
click to enlarge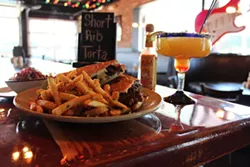 Mexican tortas (sandwiches) are possibly the least understood and most overlooked of all the Mexican, Tejano and Tex-Mex foods that have filtered onto the American gastronomic roster. As for any sandwich, the key to a great torta is good bread and balance. Maverick gets its crusty French rolls from locally owned Los Reyes, a grocery store, bakery and tortilleria. On one torta, tender strips of braised short rib are buoyed by a splash of avocado cream and queso Chihuahua, a soft cow-milk cheese, then flecked with black beans and pickled onions. Another torta includes thin slices of roasted portabello, zucchini and poblano chilies heightened by fresh cilantro and a melted white cheese. The kitchen pays attention to details and to quality.
The other dishes have a similarly honest, unpretentious quality. Chimichurri steak, ahi tuna, chicken with adobo, poblano shrimp, cornmeal-crusted fried calamari, and slow-roasted dry-rubbed pork are prepared as street tacos, burritos or salads. Freshly made griddled corn tortillas are the base for the tacos, which, with the exception of the shrimp, are better than what you will find on a taco truck, especially the adobo chicken. The problem with the shrimp is that the ingredients — marinated grilled shrimp with bits of pineapple, jicama slaw and queso fresco — are too wet for a taco. It's better on the salad with local greens. As for the burritos: They need more oomph.
The skirt steak, as entrée, is enlivened with jalapeño, garlic and cilantro. Guacamoles — classic avocado and pineapple, mango and habañero — served with warmed chips promotes sharing. Sides are a strong suit here. The fries, laced with chilies, will bite you back, while the jicama slaw is delightfully crisp. The most popular side, though, is the grilled ear of corn — but have a stack of napkins ready.
Austin has long been heralded as a place for musical innovation. And the formula for Maverick includes music, both live and from DJs. Likewise, the Xenia team relies on creativity in the menu, investing each element of a dish with its own acuity and Texan baseline, offering more hits than misses.
Maverick Rock Taco
1513 Montford Drive, 704-527-1400. Hours: Sunday to Thursday 11 a.m. to 11 p.m.; Friday to Saturday 11 a.m. to 12 a.m. Bar open daily until 2 a.m. A late night menu starts at 11 p.m. Music events listed on Facebook.