Several hundred had gathered in The Westin's ballroom the night everything changed. President Barack Obama was hours away from being re-elected, but no one here gave a damn.
When an exuberant Pat McCrory emerged from backstage, having just been elected governor by a landslide, his walk to the podium that November night in Charlotte signified the greatest Republican victory in the history of North Carolina.
While the Grand Old Party lost presidential viability in the months leading up to the 2012 election, a Tar Heel coalition emerged: country folk living in the death grip of poverty and business types sitting comfortably in plush office buildings. McCrory received 51 percent of the urban vote — up from the 28 percent the Republican candidate received in 2008 — and 61 percent of the rural vote — up from 44 percent.
McCrory's win and GOP redistricting, which has secured the party's hold on the General Assembly for at least a decade, makes the state that much more interesting to national Republicans, who must win six seats this year to take back the U.S. Senate. Incumbent Democrat Kay Hagan's is at the top of their list.
Hagan has been in office for one term, making her a relatively unfamiliar name. She also voted for the Affordable Care Act, a decision conservatives have used against her in television ads that began airing last year. According to analysis by The New York Times, from June 2013 to Jan. 12, the conservative super PAC Americans for Prosperity sponsored 3,535 television ads against Hagan — the most the group ran against any legislator in the country — criticizing her support of Obamacare.
"The focus is on North Carolina, for whether Democrats control the Senate or Republicans do," says Michael Bitzer, associate professor of political science and history at Catawba College. "Kay Hagan is one of the top endangered Democrats in the nation."
Two Republicans from Mecklenburg County are frontrunners in a field of six primary candidates vying for Hagan's seat.
Thom Tillis, a self-assured former executive from Cornelius, has accrued a lengthy list of accomplishments during his eight years in the state legislature, the last three of which he's spent as House speaker. Mark Harris is a pastor at First Baptist Church in Uptown with an all-American family and, as president of the Baptist State Convention, serious clout among evangelical Christians.
Tillis is the pro-business candidate who has the support of beltway insiders. Harris is endorsed by Mike Huckabee and is attempting to unite social conservatives with the Tea Party.
"Each represents a different faction within the party," Bitzer says. "Tillis is the more mainstream candidate. Harris is the evangelical conservative."
Whoever wins could symbolize the end of the civil war plaguing the GOP, waged between plutocrats and Tea Partiers.
MR. SPEAKER
click to enlarge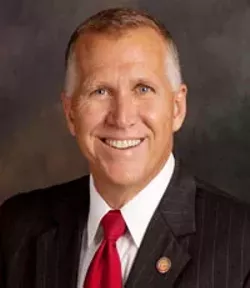 The first ad of the campaign cycle aired in March 2013. The unofficial spot, sponsored by a political action committee called the North Carolina House Legislative Partners, featured Tillis walking through an auto-body store asking viewers to "join me in helping to set the right priorities for our great state."
Three months after the ad appeared, Tillis formally announced his U.S. Senate campaign. By fall, he had secured the endorsement of dozens of colleagues in the General Assembly and scared off potential, experienced candidates Congresswoman Renee Ellmers and state Senate Pro-Tem Phil Berger.
Born in Jacksonville, Fla., to a shipbuilder and stay-at-home mom, Tillis' life has been one of constant change.
The family moved 18 times before Tillis graduated from high school. Despite the disruption, he remained near the top of his class, becoming student-body president and being named "most likely to succeed" his senior year. Tillis didn't immediately go to college. "I didn't have the money, and I'm thinking I've got to go get a job," he says. "I was a young man living in a trailer park, thinking the last person who would help me is the government."
He got an odd job or two before starting up at an insurance company in Tennessee, taking community college classes to help with his work cataloguing customer information on computers. He caught the attention of an executive at Price Waterhouse, now PriceWaterhouseCoopers, where he would eventually become a systems and management consultant. In 1996, Tillis got his bachelor's in technology management from the University of Maryland — after making partner at the financial services company.
Work, eventually with IBM, relocated Tillis to Cornelius, where the avid mountain biker proposed a community trail. No one would listen, so he volunteered for an open seat on the parks and recreation board. "I realized I'd have a better shot of getting it done," he says. A year and a half later, he was a town commissioner.
He set his sights on the next office, winning a seat in the state House in 2006 by defeating incumbent John Rhodes in the primary. "It was a stylistic issue," says Tillis, who found Rhodes too outspoken and doctrinaire to be an effective representative. "He and I weren't that far apart ideologically."
Tillis took over the House Republican Caucus, helping it win control of the state House for the second time since 1895, and eventually became North Carolina's fifth Republican speaker. Then, results: medical malpractice reform, energy exploration (including legalizing fracking) and a budget, all of which overrode Gov. Bev Perdue's vetoes.
In 2011, the American Legislative Exchange Council named him "Legislator of the Year." ALEC is a network of state legislators with strong corporate ties, a private-enterprise board with executives from Koch companies and ExxonMobil and a heavy hand in many conservative state legislatures (it's authored several bills that have passed the General Assembly). Last year, Tillis joined its board of directors.
Power players think he has the best chance of unseating Hagan. He's gotten the support of Karl Rove, who has appeared at several of his fundraisers, and donations from John Boehner and Mitch McConnell.
His reputation has also made him a punching bag for grassroots conservatives. In a New Year's Eve fundraising email, candidate Greg Brannon labeled Tillis as "an establishment insider ... marching to Washington to cut deals that benefit his cronies." Brannon reminded readers that Tillis paid two staffers an additional month's pay after they had resigned — $12,500 to chief of staff Charles Thomas and $6,833 to policy adviser Amy Hobbs — when their affairs with lobbyists were made public.
When Tillis proposed nominating a Democrat to the UNC Board of Governors in 2013, Republicans in the House balked. Tillis sent them an email explaining that the nominee was "directly responsible for more than $100,000 in financial support through personal contributions to my campaign committee." Some in his party consider this further evidence that Tillis is a sell-out to special interests — a candidate who might fight Big Government, but only on behalf of Big Business.
He's internalized some of the criticism. "I go to bed thinking about the last gut punch and every morning wake up to look at the latest gut punch," he says. "The reason that primaries are so personal is that if people are intellectually honest with themselves, except for 20 percent of the issues, they're largely on the same page. So most of them tend to go personal."
Tillis plans to raise $12 million, plenty to spend in an election that "will be symbolic of the establishment trying to regain control over the party machine," says Bitzer. If elected, he could repeat tactical moves he made in 2006, when he shifted the state party more toward the middle in terms of temperament. Tillis could represent Republicanism that is adaptable to the times.
"Name one great leader in history who didn't compromise at some level," says state Rep. Charles Jeter, a Tillis supporter, calling out members of his party who expect ideological purity. "It's like looking back to that college girlfriend you had. ... You remember all the good stuff, but you don't remember when Reagan raised the debt ceiling 17 times."
These days, Tillis is thinking less about ideology and more about strategy. In January, he led the primary field with 19 percent of the vote and Hagan 43-42. "If I thought there was another candidate in the primary who could beat Kay Hagan, I probably wouldn't be running right now," he says. "I'm convinced I'm the only one who can."
PASTOR HARRIS
click to enlarge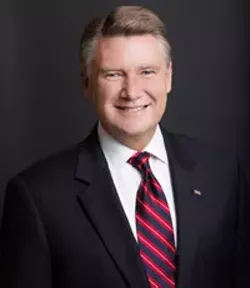 The steeple is practically a tower that stands out among the hotels of Charlotte's Second Ward. Close by are the trees and fountains of Marshall Park, where Occupy Wall Street protesters once camped.
On May 5, 2013, after Pastor Mark Harris told the thousand-member congregation inside First Baptist Church he was considering a bid for U.S. Senate, he walked off the stage to a standing ovation.
Earlier that year, friends had organized a "Draft Mark Harris" campaign and reached out to supporters on social media pages, drawing upwards of 25,000 members. It led to a statewide listening tour where Harris met with supporters. He says he heard enough to convince him it was time to temporarily leave the church and enter politics.
That so many would rally around a Charlotte pastor not named Steven Furtick is not that big of a surprise. Harris helped mastermind the improbable — getting an amendment to the state's constitution on the ballot and approved by voters. Harris was a founding member of the Vote for Marriage NC committee, the main proponent of Amendment One, which prohibits the state from recognizing gay marriage or civil unions.
His First Baptist congregation contributed $52,000 to the campaign, and Harris appeared in newspaper advertisements supporting the amendment. Just before voters took to the polls, Harris' wife Beth posted a blog on the church website warning that "legalizing gay marriage specifically sends the message that people are born gay."
To Harris, who says he was motivated throughout the campaign by "activist judges" overturning marriage laws, the amendment was about preserving values. "What it says is that North Carolina is a state holding onto its traditional principles. This fight was brought to us." Two Amendment One staffers work on his senatorial campaign: Rachel Lee Brady as finance director and Mary Frances Forrester as co-chair.
As a child, Harris was more interested in politics than social issues.
When he was 13, his parents dropped him off at the local Americans for Reagan office so he could stuff envelopes and make get-out-the-vote calls. After his junior year at Reynolds High School in Winston-Salem, he was selected to attend Boys State, a summer leadership program sponsored by the American Legion, and was one of two attendees to go on to Boys Nation. He majored in political science at Appalachian State, finished in three years, took the LSAT and enrolled in law school at Campbell University.
"Two weeks before my wedding and two months before law school, God called me to preach," Harris says. He headed instead to Southeastern Baptist Theological Seminary in Wake Forest, where he earned a Master of Divinity and a Doctor of Ministry in Christian leadership. He served as a pastor in Clemmons, N.C., and Augusta, Ga., before coming to Charlotte.
"If you want to talk about poverty, unemployment or immigration, for the past 25 years I've had the opportunity to put names and faces with those issues," says Harris, of his church members.
It's odd to see the genial Harris, full of Southern charm, reaching out to the angry members of the Republican Party's far-right base. Harris appeared at several Tea Party events in 2013, including participating in a forum sponsored by the Gaston Tea Party, where an attendee carried a sign reading "Liber-TEA, not Rove."
Part of this outreach is strategic: to build a coalition to defeat Tillis' moderate supporters. It's also instinctual.
According to a Democracy Corps study, Christian "evangelicals feel a deep sense of cultural and political loss. They believe their towns, communities, and schools are suffering from a deep 'culture rot' that has invaded from the outside. The central focus here is homosexuality, but also the decline of homogenous small towns. They like the Tea Party because they stand up to the Democrats. ... They embrace the Tea Party because they are the ones who are fighting back."
Still, uniting these forces will prove difficult. "The Tea Party is not a party," says John Hood, president of the conservative John Locke Foundation. "Lots of different groups employ that brand." Some are descendants of Dixiecrats; others are libertarians with more reverence for Austrian economists than Abraham Lincoln.
However divided, Tea Partiers are a force to be reckoned with. Though they only make up 29 percent of the GOP, they comprise 47 percent of donors and 61 percent of volunteers, according to a 2012 American National Election Study. The Southern Baptist denomination, of which Harris is a leader, has about a million-and-a-half members in North Carolina alone. A Tea Party and Moral Majority alliance could be enough to win the primary, especially considering that in the last U.S. Senate primary during a midterm election, in 2010, only 14 percent of registered voters in North Carolina showed up.
But it's difficult to see that coalition appealing to independents, who are needed to win in November.
Harris must also appeal to disaffected voters, who are mostly socially conservative but fiscally liberal, according to the new book Who Votes Now? Demographics, Issues, Inequality, and Turnout in the United States by Jan E. Leighley and Jonathan Nagler.
Typically, they're poor or lower middle-class whites who didn't go to college. They think corporations and free trade destroyed their economy. Thousands of them live in small towns across the state, where factories have closed. They feel forgotten, like their way of life is a footnote in history.
The more Greg Brannon, a self-described constitutional conservative Republican, becomes an outlier in the race, the better shot Harris has at coalescing conservatives into a movement and winning a low-turnout runoff. It will be hard for an anti-gay preacher to win a statewide general election in 2014, but Harris is holding strong to his roots.
"What America needs is a spiritual awakening that will bring healing," he says, "but there is no one in Washington willing to use that pulpit."'
EASY LOSSES
"One of the problems we have is that we get cocky and nominate people who can't get votes in a general election," says Richard Vinroot, a former Republican Charlotte mayor who ran for governor three times. "That happened in Delaware and Missouri in races we should have won," he says, referring to recent GOP Senate candidates Christine "I dabbled in witchcraft" O'Donnell and Todd Akin, who popularized the phrase "legitimate rape."
The establishment blames conservative groups for propping up these candidates and costing the party easy victories in those states and Nevada, Indiana and Colorado. When former Congressman Steve LaTourette established the Main Street Advocacy Fund, he emphasized that "the reason Harry Reid and the Democrats control the U.S. Senate is thanks to the efforts of the Club for Growth, Freedom Works and the Tea Party."
Elites are committed to not letting that happen again. The Wall Street Journal reported that the U.S. Chamber of Commerce will spend $50 million this year to ensure no "loser candidates" win, according to a political strategist for the group. Rove said, "Our objective is to avoid having stupid candidates," when he launched his Conservative Victory Project. That means dumping millions into North Carolina to keep polarizing figures such as Harris and Brannon from building momentum.
So far, though, establishment and right-wing organizations have spent their money weakening Hagan while letting the primary play out. (Americans for Prosperity spent $6 million on the anti-Hagan ads.)
Harris met with Ted Cruz in November, seeking an endorsement; another might come from Sarah Palin, who is close with evangelical leader Franklin Graham. Tillis is skipping the candidate forums, the first few of which were sponsored by Tea Party groups. The last event was sponsored by the Forsyth County Republican Party, who put an empty chair on stage with Tillis' name on it. Tillis will have the money, but if he keeps avoiding the base, his chances will rest on the enthusiasm of suburban Republicans, who don't always vote in primaries.
It's a huge gamble — to plead to actual voters and not political action committees.
"If Tillis can't pass the 40-percent mark, it will be a real battle come middle of summer, with even more influence from the activist base," Bitzer says. "If it goes into a runoff, all bets are off."