click to enlarge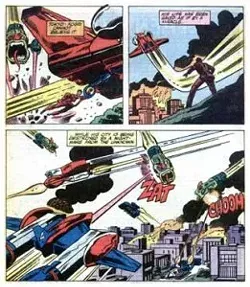 So, HeroesCon is preparing to crush Charlotte, like, tomorrow. Check the Heroes Web site and you'll see all kinds of news about the Con. But, something I'm really excited about? Yooo ... Herb Trimpe is coming!
Trimpe, if you didn't know, is a legendary Marvel Comics artist. I guess his most famous work was drawing the first appearance of Wolverine, but I actually like his wackier stuff (see pic from Shogun Warriors on the left).
Much, much, much more HeroesCon stuff on the way ...