click to enlarge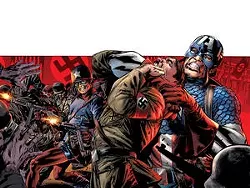 Once again, I tracked down the biggest comic-related headlines of the day. Check 'em out:
Tom Brevoort talks Cap: Reborn: WITH spoilers! You've been warned ...
Asian American Comic Convention: Cool shit. Exactly what the comic book industry needs: diversity.
Dark Horse Presents leaves MySpace: Damn. MySpace just up and turned wack, eh?
Supernatural Law wins award: I really didn't know this series was still being published. But congrats!
Inspiration for Scalped, up for parole: The real deal about the Native American crime comic.