Room 112 Modern Asian Cuisine + Sushi Lounge, discreetly tucked into the corner of Trade and Tryon Streets behind the waterfall, quietly opened up its doors this summer with little fanfare. Don't let this fool you though, their sushi is nothing to be ignored.
While eating one of Room 112's most popular rolls, the Pink Floyd maki roll, I could not stop exclaiming how extremely good it was. Beautifully presented on a sauce-garnished plate, the roll contained fresh crunchy tempura shrimp, spicy crab, avocado, masago, and tobiko wrapped in soy paper. The roll will cost you a pretty penny ($12.95), but it's definitely worth it ... in my humble opinion.
They offer a long list of specialty rolls beyond the usual Caterpillar, Spider, and Rainbow rolls that you'll find at almost every sushi joint. A few other rolls that sound enticing:
Grasshopper - Tempura shrimp, avocado, seaweed salad, crunch, masago, spicy aioli
White Dragon - Tempura shrimp, cucumber, baked white tuna, avocado, tobiko, combination sauce
112 - Spicy combination sauce, flash fried tuna, avocado, masago, tobiko, scallions
If you want to stop by for lunch, be sure to get there early to beat the lunch-hour rush (it opens at 11 a.m.). Apparently, Room 112 offers great lunch specials that people can't seem to get enough of.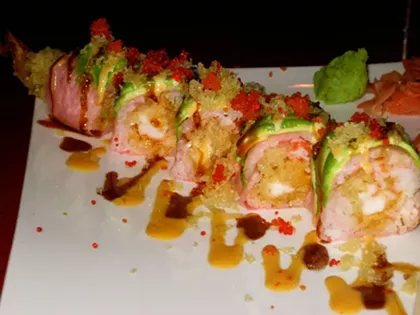 7 slides