Amateur and pro chili chefs battled it out at the Good Eats Chili Cook Off at Jackalope Jack's on Sunday, Nov. 15. Twenty teams brought their best chili to the table and competed for the best traditional chili (beef and bean), the best specialty chili, and the People's Choice Award. The entire neighborhood was invited out to taste-test the chilis and also watch the Panthers play on a projected screen in a make-shift outdoor stadium. Admission was free and for $10, guests were given 10 tasting cups and a free beer.
Among those competing were self-proclaimed chili masters, grandmothers, a teenager, and professional chefs from Nolen Kitchen and Tavern on Park.
Although I didn't win anything at the Cook Off, it was a great first-time cooking competition for me. My friend and I made a Buck Wild Chili with real bear meat, venison, pork sausage, bacon, bourbon, and beer. After ladling out samples of chili from 1 to 6 pm, I was starting to feel like a cafeteria lady (minus the hair net). We had some die-hard fans who asked if we had a web site or restaurant through which they could buy more, but I can't say the entire crowd went wild over the Buck Wild Chili. I guess there is always next time ... And next time I'm playing dirty – I'm bringing all the fixings and even homemade cornbread. Maybe I'll pass out free beers too to win over the tasters.
Congrats to all the winners!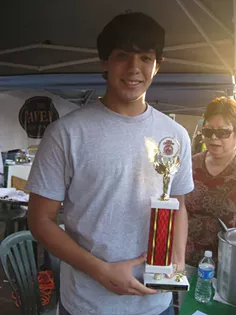 43 slides
If you are interested in other food competitions and food events around Charlotte, join the Charlotte Good Eats Meetup group. Membership is free.