This Gorgonzola Penne with Chicken dish won $25,000 in a recipe contest through Taste of Home. $25K? Dang.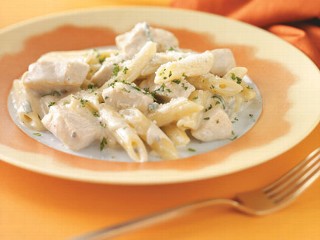 Since it was deemed worthy of the hefty monetary prize, I had to try it.
I'm not a big fan of chunks of chicken in my pasta, so I subbed in shrimp instead. The prep was simple and the cooking was easy. I'd say it turned out pretty freakin' tasty. Even my lactose-intolerant friend scarfed it down, knowing full well what the consequences would be.
Penne pasta and shrimp are tossed with in pungent Gorgonzola cream sauce, made of cream, white wine, sage, and garlic. Thanks to the addition of the light orange shrimp, the dish wasn't completely a monochromatic and bland white.
Here's my version:
Lacking greens, the rich and creamy pasta pairs well with a fresh salad with tart flavors. I made an Spinach Apple Salad to go with it. You can do it too. It's easy! Just a cup of diced apple, a few raisins, chopped red onion, and spinach. Toss it with a simple dressing, and voila:
Read on to get the recipes...
Gorgonzola Penne with Shrimp
Ingredients:
1 package penne pasta (16 ounces)
1 pound shrimp, peeled and deveined
1 tablespoon olive oil
1 large garlic clove, minced (I used two, just for good measure)
1/4 cup white wine
1 cup heavy whipping cream
1/4 cup chicken broth
2 cups Gorgonzola cheese, crumbled (8 ounces)
6 to 8 fresh sage leaves, thinly sliced
Salt and pepper to taste
Grated Parmigiano-Reggiano cheese
Fresh parsley, minced
Directions:
Cook pasta according to package directions.
Meanwhile, in a large skillet over medium heat, cook shrimp in oil until slightly pink. Add garlic; cook 1 minute longer, or until shrimp is almost cooked through completely. Remove shrimp from pan. Using the same pan, add wine, stirring to loosen browned bits from pan.
Add cream and broth; cook until sauce is slightly thickened. Stir in the Gorgonzola cheese, sage, salt and pepper; cook just until cheese is melted.
Drain pasta. Add shrimp and pasta into sauce in pan. Heat and stir for a minute or two. Sprinkle with Parmigiano-Reggiano cheese and parsley.
Spinach Apple Salad
2 tablespoons cider vinegar
2 tablespoons vegetable oil
1/4 teaspoon salt
1/4 teaspoon sugar
1 cup diced, unpeeled apples
1/4 cup chopped red onion
1/4 cup raisins
4 cups torn fresh spinach
In a small bowl, combine vinegar, oil, salt and sugar; mix well. Add apple, onion and raisins; toss lightly to coat. Cover and let stand for 10 minutes. Just before serving, put spinach in a large salad bowl; add dressing and toss.