Kickstand Burgers -N- Bar has been open in Plaza-Midwood for a few months now. The new restaurant took over what used to be Common House restaurant, but is still owned and operated by the same owners (who also run Hawthorne's Pizza and Loco Lime).
Like the name suggests, the burger bar has a biking theme throughout the restaurant. Their menu items are named accordingly too — "Cross Country burger," "Hungover Cyclist," "Tricycle."
The service was friendly and the food was good. I appreciate the unique burger creations which include preset creative condiments and toppings. My Cross Country burger was loaded with citrus BBQ sauce, Pepper jack cheese, pico de gallo, and jalapeño cilantro spread.
Sides include super crunchy battered fries, combination sweet potato and plain tater tots served with maple syrup sauce, and Onion Tanglers.
Desserts available are simple, yet perfect for a post burger-gorging meal. Kickstand offers milkshakes and parfaits. The Key Lime parfait I tried came served in a large shot glass. It was just the right portion size to satisfy my sweet tooth without sending me over the edge, as in I-wanna-unbutton-my-pants-now.
With good food, no wait to be seated, ample parking, and reasonable prices, I'd say this place is a prime player in the Charlotte burger restaurant scene.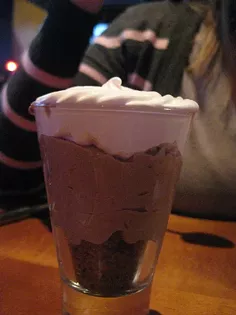 18 slides
Kickstand Burger -N- Bar
1101 Central Ave
Charlotte, NC 28204
(704) 332-1010