Totally crunchy granola, but totally delicious is Luna's Living Kitchen, located in Atherton Mills in South End.
As an eat-everything omnivore who is wary of anything labeled "vegetarian," "vegan" or "raw," I was pleasantly surprised by Luna, which specializes in vegan and raw foods (all foods served are not necessarily both vegan and raw – some are baked). How could anything without meat, warmth, or butter/milk/cheese be delicious? Luna's showed me how.
I was expecting bird-like food of dried fruits and crunchy nuts and seeds, perhaps some bland salsa-like creations. What I got was hearty fare with complex flavors and textures.
Upon entering, savory scents of tomatoes and herbs welcome you in. The restaurant is casual, you order and pay at the counter, and the food is brought to you at your table. On the menu are smoothies, juices, salads of local greens and veggies, and entrees like the Sprouted Quinoa-Kamut Veggie Burger, Lunasagna (layers of zucchini noodles served with sun-dried tomato sauce, spinach, Crimini mushrooms and green cashew cheese), and Mystical Mushroom Spaghetti.
The bread slices served with the hummus plate were warm and studded with cranberries and walnuts. The two entrees I tasted at dinner were both beautifully presented and served with a fresh butter lettuce salad. The quinoa veggie burger was not raw, but baked. Well-spiced, the burger was held between two slices of whole-grain bread with a spread of hummus and a slice of tomato. Not sure what the green sauce dolloped atop the burger consisted of, but it was bright and flavorful.
The Lunasagna made with zucchini noodles and no cheese was also a tasty surprise. Who new non-dairy "cheese" made of green cashews could taste so flavorful and smooth? I didn't miss the traditional cheese or pasta noodles at all. Since the entree was raw (not cooked in any way), it came out cold/room temperature, which didn't seem to affect the lasagna experience any.
Unsure how satisfied I would be after eating a veggie-only meal, I was still a happy, and full, camper many hours after dinner.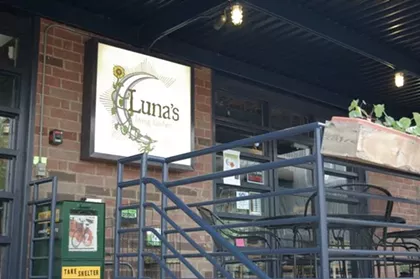 13 slides
Luna's Living Kitchen
2102 South Boulevard., Suite 150
Charlotte, NC 28203