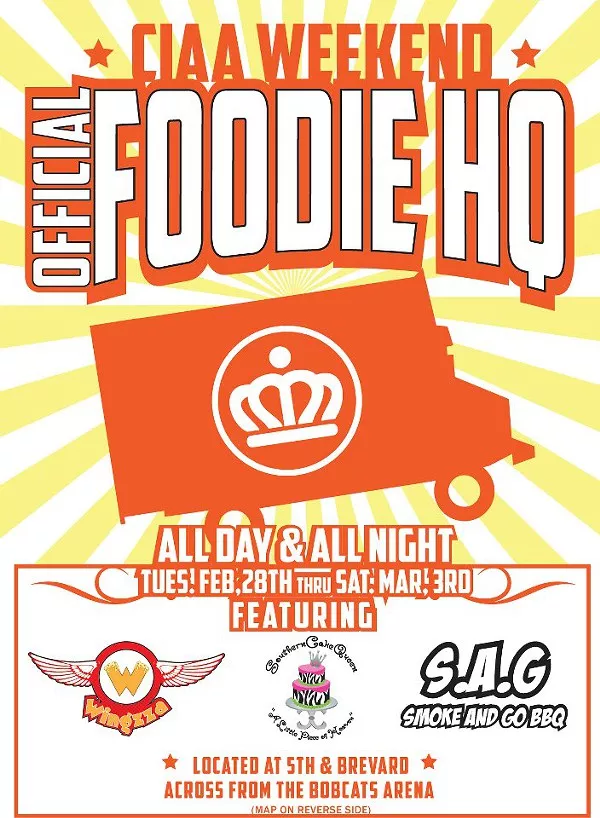 Service-industry folks, brace yourselves; the CIAA is back in town. For the seventh year in a row, crowds starved for their basketball and/or partying fix will descend upon Uptown's entertainment venues with the same hungry instinct broke college students use to find free food. This time of year finds clubs and restaurants eager to serve up Charlotte's crème de la crème to locals and visitors alike. Lucky for foodies of all stripes, there are more options than ever, particularly in the food truck department. Offering the gourmet appeal of a sit-down restaurant with the speed and convenience of a fast-food joint, the nationally popular food truck trend has established a loyal audience in the Q.C. as well. During CIAA tournament week, a stroll through Center City streets will present the famished fan or plastered partygoer with a myriad of mobile goodies set to satisfy your specific craving.
5th and Brevard will be a temporary home to what has been deemed the CIAA'S Official Foodie HQ, across from the Time Warner Cable arena. Holy Matrimony Wings and Pizza , Smoke n Go BBQ, and Southern Cake Queen have joined forces to serve up grub for lunch, dinner, and late night crowds, starting Tuesday and going through Saturday.
Also hunkering down on 5th and Brevard are Napolitanos and Soul4wheels . If you've ever felt torn between feasting on Italian or noshing on soul food, here's your chance to combine two comforting cuisines in one meal. You can spot them in the Big Red Truck, Thursday through Saturday.
Cupcakes have evolved from kid party favorites to the apple of many a sweet-toothed adult's eye. Capitalizing on this nationwide obsession is Cupcake Delirium, which travels Uptown and its peripheries, tempting Charlotteans with their assembly of gorgeous, sugar-laden snacks. If you need a sweet early morning pick-me-up, find them Tuesday and Thursday at the lunch lot across from Phat Burrito, from about 11:30 a.m. to 12:15 p.m. Find them in Uptown proper outside on Trade Street, outside Johnson & Wales, from 12:30 p.m.-2:30 p.m.
If it's a taco spread you're after, The Tin Kitchen has you covered. They'll be outside the Charlotte Observer building Wednesday and Thursday from 11 a.m.-2:30 p.m., the lunch lot on Camden on Friday from 11:30-2, and then outside of Dharma Lounge on Saturday from 1 p.m.- 6 p.m.
Sure, it's fun to be enough in the know that you can hunt down the food truck of your choosing, but it's admittedly also a whole lot easier when you find them all in one place. Not exactly tied to the CIAA, but a great night out for those wanting a break from the scene Uptown, the Southend Gallery Crawl comes with an added bonus: they're calling it Food Truck Friday, and it's a doozy. Feature Roaming Fork, The Herban Legend, The Tin Kitchen, Goody Woodys, Napolitanos, Sticks and Cones, and Roots Farm Food. The term "smorgasbord" certainly comes to mind.
There you have it, food trucks to indulge all the cravings you could conjure up, allowing you to break bread without breaking the bank.