There is no lack of New Year's Eve parties in Charlotte willing to help you ring in the new year as you hand them $100+ for a cheap glass of champagne and entry into their "exclusive" party. But if I'm going to spend $100+, it's going to include a meal, and a good one at that. Lucky for us, there are a few restaurants in Charlotte doing it up big on New Year's Eve. Here are a few to choose from.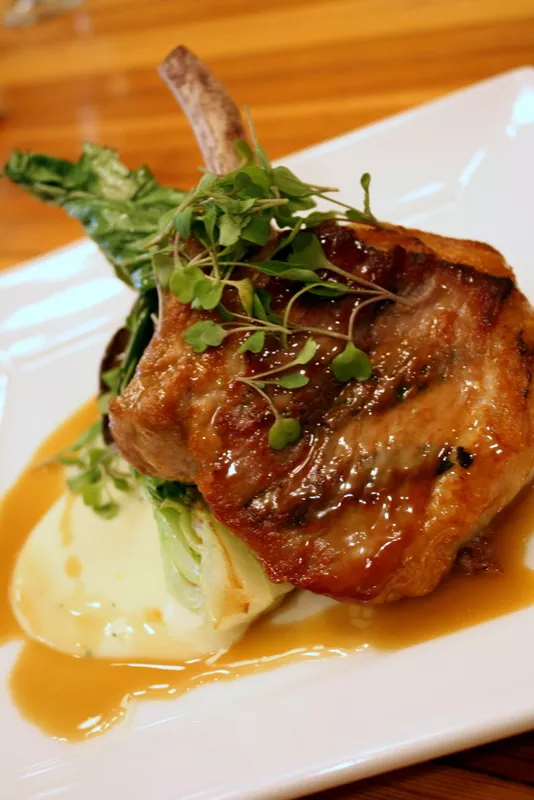 Grateful Growers Pork Saltimbocca with country ham, sage, and white wine pork demi

LOCAL DELICACIES AT HARVEST MOON GRILLE
Harvest Moon Grille will be offering a three course menu featuring some items you won't find on its everyday menu. For $65 a person, diners may choose among four different options for their appetizer and entree, and three different options for dessert. The cost of the meal also includes a glass of champagne.
Entrée choices include:
- NC Grass Fed RIbeye Roulade, Roasted NC Oyster Mushrooms, Parsley Demi
- NC Striped Bass Medallion Fried NC oysters, Spicy Tomato Olive
Cream
- Grateful Growers Pork Saltimbocca, Country Ham, Sage, White Wine Pork Demi
- Ricotta Gnocchi, Grilled and Roasted Veggies
Chef Patty and Chef Cassie put their heads together to develop this menu, and their pick for favorite entrée is the Grateful Growers Pork Saltimbocca (pictured above). The pork comes straight from a heritage breed of pig from Chef Cassie's farm, Grateful Growers. Pork Saltimbocca is a traditional Italian dish, which translates to "jumps in mouth." The dish is typically served with prosciutto, but Harvest Moon Grille gives the dish a Southern twist and serves the pork with country ham that has been aged an entire year.
Reservations can be made by calling 704-342-1193 or through Open Table. Harvest Moon Grille is located at 235 N. Tryon St.