Everybody's heard of a CSA, right? Community supported agriculture? CSA shares are a great way to eat seasonally and support local farmers.
Well, get ready for the next level in CSAs.
Typically, a household pays for a weekly share of a farmer's crop for a predetermined length of time, say, three or six months. The share is then available for pickup each week and consists of the latest harvest and often times, local eggs, dairy and cheese. It's no-brainer grocery shopping for the locavore.
This & That Jam, a small batch preserves company based out of Durham took the CSA concept and made it awesome. Get this, they offer a JSA! That's Jam Supported Agriculture or monthly jars of locally produced jam delivered straight to your doorstep. What a perfect Christmas gift for the curious palate.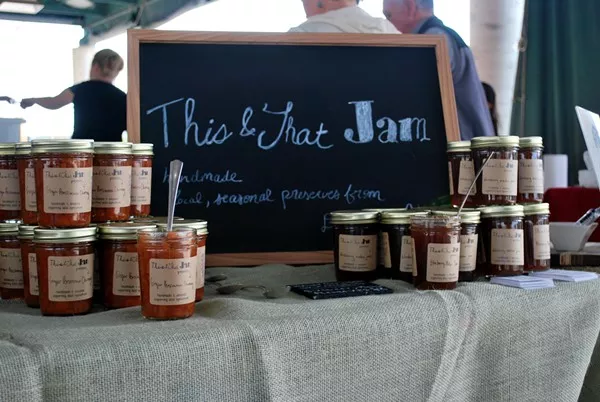 Courtesy of This & That Jam
This & That Jam offers six-month and 12-month subscriptions for the jam lover in your life. Each jar is packed with produce sourced from North Carolina farms, and each batch is cooked the old school way, low and slow, so there is never a need for commercially made pectins in these little jars of love.
The story gets better. This & That Jam truly believes in lifting up the local farmer. Owners Ben Filippo and Ali Rudel often buy excess produce - or the "ugly ones" - that might have otherwise ended up in the compost bin or worse, the trash. In addition, they supplement with produce grown in their very own backyard garden and only prepare jams with pesticide-free produce.
Owners Ali Rudel and Benjamin Filippo
Past preserve flavors include Sour Cherry Honeysuckle Jam and Lemon Thyme Tomato Jam. Current batches include the Fig & Pear Jam and the Heirloom Bourbon Apple Butter. They even make special flavors for JSA subscribers only. For Filipo and Rudel, it's not just about creating an unbelievable product, but they are serious about the art of preserving as a way to live sustainably. They offer workshops on a "pay-as-you-can" basis and can be found teaching low-income communities how to make the most of seasonal foods.
Dare I say, This & That Jam CSA is, well ... the jam. I love this concept.
Jam subscriptions are available online through the This & That Jam shop. Individual jars can be purchased locally at Orrman's Cheese Shop located inside the 7th Street Public Market. Move over grape jelly.
Keia Mastrianni loves to tell stories about local food products and the people behind them. When she's not scouting out local discoveries, she's steadily working in her vegetable garden, spending time in the kitchen and nosing through cookbooks. She maintains a happy food blog called The Sunnysideup where she shares recipes and her culinary adventures.