Editor's Note: Our beer writer is embarking on a self-imposed Charlotte-area brewery tour, visiting one a month. Here's his latest report.
Thursday afternoon, and rush hour traffic is nipping at my heels. I can almost feel I-77 swell behind me with an influx of northbound traffic, and I do my best to ride this wave to the D9 Brewing Company in Cornelius without getting overwhelmed.
Let's get this out of the way: You're not lost or a victim of a wrong turn. This brewery is really in a business park. There's not much in the way of outdoor signage, save for a sizeable "D9" logo taking up the front doors that I drove right past on my first attempt. I blame traffic exhaustion.
The doors open into a high-ceilinged taproom, with the bar sitting at the back left corner, just past the enclosed brewing area. After that drive, I need a beer before I look around much further, so I'm going to get to it.
I lead with the Loch Norman Scottish Ale, with the offering board listing it as the "official beer" of the Highland Games. It's certainly to style; medium-brown coloration, medium body, with flavors of toasted bread and slight caramel notes stacked on top of a subtle earthy hop presence.
Settling down at one of the community-style tables, I ensure the best view of the brewhouse. It's kinda tight back there, packed solid with some of the shiniest mirror-finished stainless equipment I've seen (seriously, what do y'all do, polish it every night?). There are a few odd square plastic containers thrown in the mix. Found out later, that's where Viking Fraoch goes to live for a second fermentation.
Let's talk about this Viking Fraoch, especially since I chose to have it second. It starts life as a normal scotch ale and fermented with a regular ale yeast, the bartender tells me, before it leaves the stainless steel fermenters and gets transferred to these giant plastic box-like dairy tanks. There, it's introduced to an isolated strain of lactobacillus bacteria, which chews through the beer and transforms it into a delightful sour ale. That's right: start with a scotch ale, add a new element, end with a sour ale. Fun with Fermentation!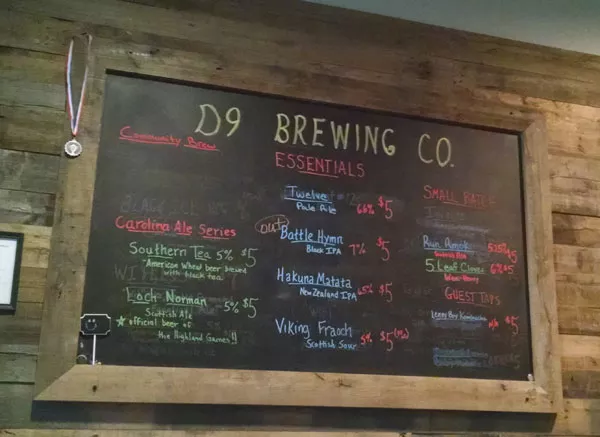 D9's taproom sports 12 taps. On this day, seven of those provide in-house beverages, several sit momentarily idle, and the last is a guest-tap kombucha offering from Charlotte's own Lenny Boy Brewing. This seems to be a trend, with NoDa also pouring Lenny Boy as I noted recently. The bar area itself is surrounded by reclaimed barn wood, which lends some fantastic character to the room and draws the eye.
Speaking of drawing the eye, I must make mention of a fantastic mural on the wall, just over the windows to the brewhouse. In a nutshell, from right to left, is a demonstration of the steps in the brewing process: milling, mashing, boiling, whirlpooling, fermenting and conditioning. My picture turned out like crap, so you'll have to swing by and see it yourself.
Hakuna Matata — it's both a wonderful phrase and the name of the IPA with which I chose to close this session. It's full of brightly tropical hop notes up front complemented by a solid malt base. Bitterness pleasantly lingers after the swallow, offering a nice prickle. Good to see D9 isn't a one-note Scottish-ale-base-or-bust brewery. I wished I'd saved room for their one-offs, but that's the problem with writing about beer: I'm attempting to document experiences that actively work against my mental faculties. Opting for a flight would've been a better decision, but I just couldn't resist a full pour of the siren song that is Viking Fraoch.
Getting home was a bit easier; no traffic to contend with, plus I was now more inoculated against frustration. Now, after typing my notes, it's time for my favorite part: finding out where I'll be visiting next. Pull a folded-up piece of paper from a hat, and I'm looking forward to seeing how Unknown Brewing continues to evolve. See y'all in May; hopefully we'll get some flowers out of this soggy April.