T-shirts and shorts made out of plastic water bottles? Sounds like something you'd wear to an Earth-Day-themed Purgatory event — many outfits worn at the local bondage and S&M event (that's no more) leave very little to the imagination.
But the apparel company Dirtball Fashion has the right idea. Not only are they producing eco-friendly clothing and products, but they're producing all that exclusively here in the States. No "Made in China" tags here.
Joe Fox, president and founder of the Hickory, N.C.-based Dirtball Fashion, chatted with us about his company, their mission, and how 10 water bottles can make you a single pair of shorts.
Creative Loafing: So tell us what Dirtball Fashion is all about.
Joe Fox: Well, we make apparel and products that are produced in the United States and utilize eco-friendly materials. Our skate decks are made here in the U.S. and use selectively harvested maple. Our snowboards, which will be available online in the fall, are made in Utah in an ISO-14,000 certified facility, which means it's a full-grain faculty and they get their power from wind energy. Our T-shirts are made of 65 percent recycled cotton and 35 percent recycled post-consumer polyester. The cotton is a zero-waste product, so it doesn't go into landfills. The recycled polyester means that for every T-shirt, two and a half 16-ounce water bottles don't go into landfills. And every year in the United States, 51 billion plastic water bottles go into landfills, and it takes 700 years for a water bottle to decompose.
click to enlarge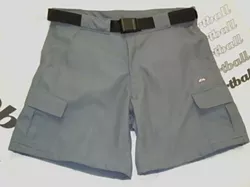 So these water bottles are used in producing your clothing?
Yep. They take those water bottles and chip them up into mini little pieces and blend that with the cotton. The shorts, for example, are 100 percent recycled polyester and it's in a canvas weave. Ten water bottles become one pair of shorts.
What other products do you have?
We're continuing to build our product lines. We started out with hats, knits and T-shirts; we now have hats, knits, T-shirts, moisture management tees, as well as skate decks. Snowboards are going to be coming online. Shorts are online — not to mention the shorts are not only recycled but recyclable. We're the only brand in the country that actually has a recyclable pair of shorts. So in other words, you can wear 'em out, tear 'em up, do whatever, and then send 'em back to us and we'll have 'em recycled and made back into polyester fabric again.
We're also planning to do an organic cotton pant because we have found a source for denim that can be sourced domestically. We're just building the brand. Basically synonymous with Dirtball is active American and eco-friendly.
How is your line different from other eco-friendly lines?
Everyone's like, oooh hemp, oooh bamboo, oooh, organic cotton. Well, there's hardly any organic cotton grown in the United States. And all of your hemp and all of your bamboo comes from China. So even though they say it's sustainable or it's organically grown, it's kind of a moot point because you've got a 5,000 mile trip it's got to take to get here. Organic is good because you're not putting pesticides into the ground, but we look at it from the standpoint of, well, do I really want an organic cotton shirt where the fabric came from China? Whenever possible, everything we get material-wise to create our products also has to be made here in the States. The carbon footprint it leaves coming from China or Vietnam far outweighs the sustainability and the earth-friendliness of the product, in my opinion.
click to enlarge
So how much of an impact does wearing eco-friendly clothing really make on the environment, anyway?
OK, let's say I sold 10,000 pieces of apparel. 5,000 pairs of shorts: That would be 50,000 water bottles that would not go into U.S. land fills.
If we did 2.5 bottles times another 5,000 T-shirts, that would be 12,500 [bottles that would not go into landfills].
In total, that would be 65,000 water bottles that wouldn't go into land fills annually.
The Dirtball Fashion line is available in retail locations in Hickory and Boone. To order online, visit www.dirtballfashion.com.