click to enlarge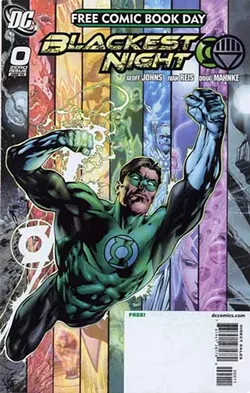 On May 2, the annual Free Comic Book Day is set to again take over comic book shops across the nation. This year, dozens of publishers will hand out more than 20 different titles — but, while all the comics are free, some are more worth grabbing than others. So to help with your shopping, here are my picks for Free Comic Book Day must-haves:
Blackest Night No. 0: Writer Geoff Johns and artist Ivan Reis join forces to offer this new tale, which is a prelude to the upcoming (and highly anticipated) Blackest Night limited series/crossover event.
Owly and Friends: Top Shelf Productions presents this kid-centric comic containing a bunch of funny short stories by creators like James Kochalka and Andy Runton, among others.
Teenage Mutant Ninja Turtles: Before the Turtles became household names, they were the stars of a black-and-white, underground title. Well, just in time for the team's 25th anniversry, this special comic reprints the hard-to-find TMNT first issue.
Read more here.