click to enlarge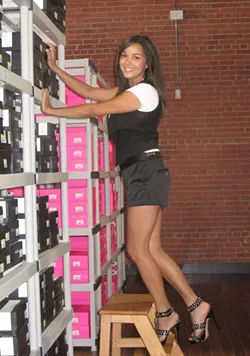 Are you antsy for some much needed retail therapy but you'd rather not have to drive to the mall? Perhaps you're having a late night craving for peep-toes and strappy sandals? Worry no more — Heels.com is here to satisfy your shoe shopping urges, and they'll throw in the shipping for free.
"Welcome to shoe heaven," says Linda McCoy, co-owner of Heels.com. 20 months ago, McCoy and her husband Eric founded their Charlotte-based Web site devoted to selling the latest trends in women's shoes. Carrying over 80 shoe brands at prices ranging from $50-$700, Heels.com is home to flats, sandals, boots, wedges, and of course, heels.
Heels.com sets itself apart from other shoe websites by focusing solely (no pun intended) on women's shoes. "We try to stay on top of our brands and pick shoes that department stores won't pick," McCoy says of the site's assortment, which includes brands such as Guess, L.A.M.B., Jessica Simpson, BCBG, and Betsey Johnson. The result is a vibrant, trendy, colorful website that sets itself "aside from your basic black pump" assortment.
"We really make it easy for our customers to shop," McCoy says. The Web site is an easy-to-navigate paradise for shoe shoppers, featuring seven views of each shoe with zoom capabilities, as well as a live video of a model walking in the shoes so customers can see "exactly what it looks like when you walk your first step," says McCoy. "Shopping on Heels.com is risk-free," according to McCoy, because the website offers free second day shipping as well as free returns. "You can't get this at Zappos."
This week, Heels.com will be launching an additional feature to its site called HeelsTV. Featuring fast-paced, energetic videos, HeelsTV is a quick and informative source for designer spotlights, sneak peaks, emerging trends, and new brands. HeelsTV will help "bring our shoppers closer to the brands," says McCoy, who anticipates that this project will engage, entertain, and educate shoppers.
McCoy, a West Virginia native and former public relations assistant manager at Neiman Marcus, started Heels.com with her husband in hopes to "start something on our own to grow from the ground up … we collaborated." McCoy believes that starting Heels.com is a way of "supporting Charlotte" and that customers are "going to get some different items" than in department stores or on other shoe Web sites.
For those who are gearing up for fall fashion, McCoy has a few tips as to what is coming next in the world of shoes: animal print, thigh-high boots, open-toe booties, turquoise, charcoal, and "purple is going to be huge" this fall. McCoy hopes to make a "presence in the U.S." with Heels.com and eventually branch out into an appointment-only boutique
Her husband Eric is just as confident: "Zappos was the appetizer. Heels.com will be the meal."