click to enlarge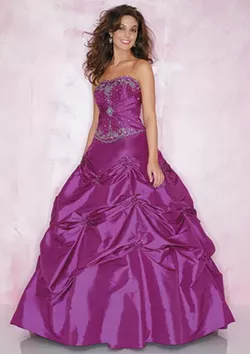 Prom dresses are just way too expensive to be worn only once or twice. I have two in my closet back at my parents' house: one I wore to my high school prom in my junior year, and another I wore during my senior year and to a military ball. That's well over $350 spent for three occasions. Craziness!
So it warms my heart to read a press release like this, from KISS 95.1's Ace and TJ Morning Show. They're hosting the 11th annual Gown Town, in which they'll give away free prom dresses at Northlake Mall tomorrow evening.
Charlotte, N.C. – WNKS KISS 95.1 Radio Morning Show hosts ACE & TJ announced that they are giving away FREE prom dresses to area high school girls in need. As prom season approaches, ACE & TJ'S 11th Annual Gown Town will open its doors to students for one day only at Northlake Mall tomorrow Friday, February 26th from 4pm-9pm.

The morning radio show hosts are currently asking listeners to empty their closets and donate prom dresses, bridesmaid's dresses, evening gowns and accessories for this worthy cause as they've done for the past ten years. "It's hard to believe that for ten years our Radio Family has continued to make sure that hundreds of girls don't miss their chance at Prom. They continue to amaze us and prove what a "Radio Family" they truly are," said Ace. Kiss 95.1 Morning Show co-host TJ added, "I love being part of an effort to help girls who wouldn't ordinarily have the chance to become a beautiful princess on their prom night, a night that will live in their memories forever".

ACE & TJ's Gown Town continues to grow more successful year after year, giving local girls the opportunity to find the perfect dress to make prom dreams come true. Last year over 975 dresses were distributed.

Donated dresses and contributions are now being accepted at the Kiss 95.1 studios located at 4015 Stuart Andrew Boulevard and 1520 South Boulevard Suite 300 in Charlotte through today or until 3pm tomorrow at the Customer Service Desk at Northlake Mall, located on the upper level near the AMC Theatres entrance (Entrance 4).

KISS 95.1 ACE & TJ'S Gown Town one day event will be held at Northlake Mall on the upper level across from Pottery Barn tomorrow from 4pm-9pm.

The ACE and TJ Show is available on-air at Kiss95.1 from 6-10AM, online at www.kiss951.com and www.acetj.com and through mobile devices such as the iPhone, iPod touch and Blackberry. Follow us on twitter.com/kiss951wnks and on facebook.com/kiss951.