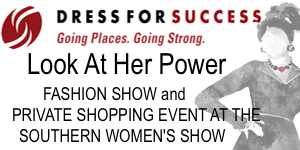 On Sept. 15, the Southern Women's Show will be opening with a fundraiser for Dress for Success, called Look at Her Power. If you are unfamiliar with Dress for Success, the mission is to equip women who are disadvantaged by providing them with professional attire, a network of support and the career development tools to help thrive in work and in life.

Look at Her Power will offer private shopping at the show, along with drinks, dinner and a truly inspirational fashion show where DFS clients model fashions from Belk and tell stories of their newly found success. Maureen O'Boyle, WBTV anchorwoman, will be emceeing the event evening featuring speaker Sheri Lynch, author and award winning radio show host. The evening will also be joined by Andie McDowell, award-winning actress and L'Oreal spokeswoman, who will present the Paradigm Award sponsored by L'Oreal Paris.
As if you need any more reason to attend this fabulous, charitable event, you will enjoy complimentary wines and champagne and tasty bites from Lateada's and Brio Tuscan Grill prior to the fashion show sponsored by Belk.
Tickets are $40, but are available online now for $32.50 with an early bird discount (and with the purchase of a ticket comes a swag bag that is worth the ticket price alone!)
This is a fashion event in Charlotte that you do not want to miss.