The long weekend of fashion celebration has come to a close. In another successful year, Charlotte NC Fashion Week jam-packed a few short days with cocktail parties, designer receptions, runway shows, and after-parties galore. On Thursday, Sept. 22, the Pavilion at the EpiCentre was the sight for a boutique and emerging designer fashion show. From chain retailers including Gap Kids and Off 5th, to local boutiques and designers like Belle Ville, Pretty Birdie, Nitsa's Apparel, and Sada Fashion, citizens caught glimpses of the face of Charlotte's fashion industry.
Gap Kids of SouthPark hosted one the most captivating children's fashion shows to hit the runway in Charlotte. Kids ranging in age from 3 to 13 confidently hopped, skipped and jumped in classic Gap looks, including the best of denim, corduroy, military blazers, down vests, trench coats, sportswear and more. The well-clad kids couldn't leave a straight face in the audience.
For the more mature crowd, Off 5th showed off the best designer looks of the season for men and women. Funky pieces from the night included a pair of peach high-waisted trousers and a sleek, black ankle-length zipper dress. Men's pants wavered from the usual neutral colors to more daring shades of burgundy and red.
Belle Ville, which has three locations in Charlotte, gave us a little taste of everything it has to offer. From denim and casual day looks, to fun and flirty party dresses, it's no wonder why the one stop shop has been consistently popular since it opened in 2002.
Nitsa's Apparel transformed the runway into a soiree. The SouthPark designer boutique wowed onlookers with beautifully crafted formal dresses, including a stunning couture wedding gown. After such a glamorous entrance, Nitsa's undoubtedly secured a plethora of women to drop in and shop for upcoming galas.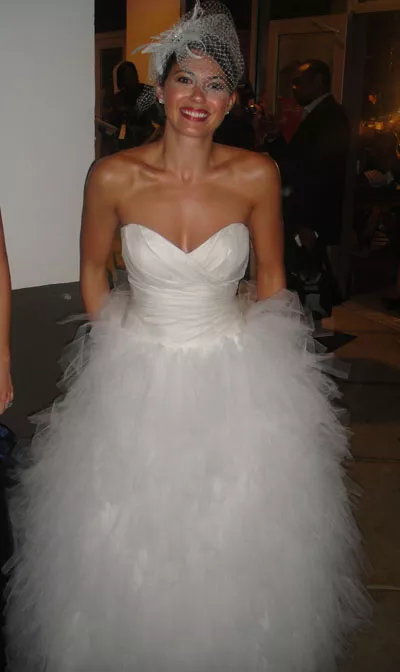 Sada Fashion, a unique line limited to teen girls and women, aims to gives females more options to look and feel sexy without being too revealing. The designer showed off a variety of looks, including three-piece business suits, casual dresses with matching accessories, and a general assortment of everyday looks with a lot of color.
An eco-chic line by model turned designer Stephanie Teague, dubbed Pretty Birdie, gave Charlotte a chance to become a little greener. The line, which uses recycled organic and sustainable fabrics, doesn't sacrifice style for the love of the environment. In fact, Teague managed to pull off a whole line of charming and feminine looks of effortless style, for any time and place.