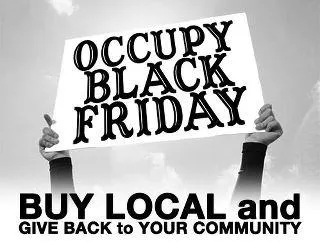 According to the National Retail Federation, 152 million shoppers are expected to hit the stores and shop online this weekend for Black Friday, Small Business Saturday and even on Cyber Monday.
Check out these sales and events happening Friday and Saturday at these local stores.
The Boulevard at South End
15% off select merchandise on Small Business Saturday.
1440 S. Tryon St.
Pure Denim
15% off all this week.
Inside SouthPark Mall.
Revolution
25% off all gifts, home goods and ornaments for the weekend and will go through Monday close.
210 E. Trade St.
City Supply
15% off any purchases (not to be combined with any other offers) on Small Business Saturday
1219 Thomas Ave.
Chezelle
50% off any one item in the store from 10 a.m. to 2 p.m. on Friday only
Friday and Saturday, an extra 30% off everything in the store including accessories.
532 Governor Morrison St.
Petal
Friday: 50% off $100 and under section 10 a.m.-1 p.m.; 40% off $100 and under section 2 p.m.-6 p.m.
Saturday: 30% off $100 and under section.
1315 East Blvd.
The Pink Hanger
They will be participating in the Salvation Army's Toy Drive again this year. Customers can earn 20% off one new item by donating one new, unwrapped toy. On Friday, the donation discount is 25% and you'll receive a free gift with purchase that day, plus markdowns of 30-50% off fall styles.
On Monday (Cyber Monday), you can get 30% off purchase with online code xxx.
2935 Providence Road
Sobo Loft Boutique & Gifts
Pick your discount out of the top hat: up to 50% off.
1820 South Blvd.
72 Shoe Boutique
Friday-Sunday: 35% off select boots, 25% off select regular priced items, plus an additional 15% off all sale items‬. Gift with purchase of $150.00 (Blakeney only).
Small Business Saturday: $25 statement credit with use of Amex card‬. Enter to win gift card up to 2x value of purchase ($500 maximum). Gift with purchase of $150.00 (Blakeney only)
Sales offer valid online only
Cyber Monday: Up to 50% off select boots, midnight until 11:59 p.m. Online only.
9856-G Rea Road
Also, in Blacklion on Park Road.
Our Place
40% off select fall/winter clothing, through Dec. 3
6700 Fairview Road
The Last Word
Buy one, get one half off all genre fiction and vinyl records (Genre fiction does not include Literature, Classics, Manga, Plays and Poetry.) Through Nov. 30.
230 East W T Harris Blvd.
Buffalo Exchange
Starting Black Friday buy a gift card for $50 or more at any Buffalo Exchange and receive a $5 off coupon toward your next purchase.
1521 Central Ave.
Fresh Boutique
A progressive sale: Buy one item, get 10% off, buy 2 items get 20% off; buy 3 items get 30% off.
813 Providence Road
Sweet Repeats Upscale Consignment
20% off all regular price clothing, shoes, handbags, jewelry & accessories (exclusions include Chanel handbags & fresh water pearls)
Additional 15% off all blue dots, new red dots at 50% off
300 East Blvd.
Laura James Jewelry
25% off Black Friday, Small Business Saturday and Cyber Monday.
1419 East Blvd.
Revolve: Upscale Men's Consignment
Additional 20% off storewide on Black Friday
1222 East Blvd.
KK Bloom
Pink Friday sale: 30% off all clothing, 10% off accessories. Spend $200 for a chance to win a $100 gift card.
2823 Selwyn Ave.
Custom
For Black Friday, Small Business Saturday: 10% off any purchase, with a receipt from any other small business in the area.
3206 N. Davidson St.
LA East
Up to 50 % off select items.
9852 Rea Road
Scout & Molly's
Friday: 40% off 10 a.m.-11 a.m., 30% off 11 a.m.-2 p.m. & 20% off 2 p.m.-6 p.m. (excludes sale items, Alex & Ani and Chan Luu are 20% off all day, not valid on prior purchases.)
3920 Sharon Road
Velocity Sneaker Boutique
30% off purchases (excluding Jordans and select Nikes)
8925 JM Keynes Drive
Scarlett Plus Size Boutique
20% off any store item, and FREE mystery gift with a purchase over $100
4732-P Sharon Road
Cottage Chic
20% off everything Friday and Saturday.
1232 East Blvd.
Elle VJ
Small Business Saturday offers 25-75% off.
136 E. 36th St.
Exude
All clothing up to 70% off, through Christmas.
2920 North Tryon St.
Lavender Boutique
All new arrivals 30% off, sales rack 50-60% off, 25% off shoes.
279 Williamson Road, Mooresville
Pura Vida Worldly Art
Today and Friday: Take 30% off any one item except for paintings & photography. Saturday: Bring a receipt from any small business in Plaza Midwood or NoDa and save 10% off your entire purchase.
3202 N. Davidson St.
KLa
25% off your purchase on Black Friday.
6700 Phillips Place Court