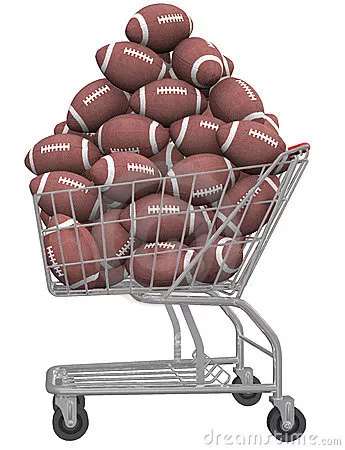 There are some women who can roll with the best of them on Super Bowl Sunday and be the supportive, attentive, football loving wife or girlfriend. But if you're not that type and you don't want to pretend to be her this year, it's OK! No really, it is. Why not do something you would much rather enjoy, like ... oh, I don't know ... shop? If you want to spend your day amongst fabulous clothing, shoes and jewelry and enjoy the Q.C.'s biggest Super Bowl Sales, here's where you need to be.
Monarch will be open from 1 p.m.-5 p.m. and is having a massive sale on all of their cold weather merchandise. This women's upscale consignment store is offering 75 percent off of all Fall and Winter items.
Just a few feet away, Cottage Chic puts a new spin on playing your cards right. The discounts here are all based on luck because you'll have to choose a card from the "Super bowl" for a chance to get up to 40 percent off of your purchase of any "in stock" items. I love this idea because it adds an element of surprise and hey, at the very least you could end up with a 10 percent off card. A savings is a savings, is what I like to say. Cottage Chic will be open from 1 p.m.-5 p.m.
Across the street at Petal, also from 1 p.m.-5 p.m., the party heats up because the first 20 customers will receive a free Petal gift bag. While you peruse their selection, you can grab a quick bite and a drink knowing it will all pay off in the end. You'll get 20 percent off your entire purchase and 30 percent off all sale merchandise.
If you're looking for a big sale with a discount on absolutely EVERYTHING, Sloan is the place to be. From 1 p.m.-5 p.m., all merchandise is 25 percent off! Yes, this includes sale items as well as jewelry. As a matter of fact, you will get an additional 25 percent off of the already reduced prices of the fall/winter collection.
And not too far away, in Phillips Place ... Via Veneto is offering light fare, wine and cheese, for the determined shopper. Stop by this boutique for 20 percent off regular priced items and 50 percent off sale. Open from 12 p.m.-4 p.m., this location is yet another stop in your four hour window of what I like to call "extreme shopping."
Keep in mind that all of these shopping events are for one day only and just for a few hours, so use your time wisely and like any other challenge, bring your A game and play to win!
To read up on more Super Bowl Sunday sales, check out this post on ScoopCharlotte.
T. Strong is a TV personality, personal stylist and fashion journalist who contributes commentary on Creative Loafing's Klepto blog in addition to writing for several other national media organizations. To learn more visit www.StyleMayvin.com or follow "therealtstrong" on Twitter.