Last week, I had the pleasure of meeting a violinist in the Charlotte Symphony who has a knack for vintage fashion. Judith Beverly Craycraft is the owner of a new store called Backstage. It takes over the old Hong Kong Vintage space down on Central Avenue.
"The whole theme of Backstage is a tribute to the performing arts through vintage clothing, costumes, antiques and collectibles," Craycraft proudly says. Opening on Jan. 1, Craycraft says she moved the store Asheville because it was bought out by developers. "This [place] has been a vintage location before," Craycraft says, "so, it made sense for us to move in here."
Upon entering the store, I'm reminded of the scenes and costumes in Fred Astaire's movie Top Hat. It helps that soft jazz music whispers in the background. It's apparent one can live out his or her Broadway or burlesque fantasies by shopping here.
What initially caught my eye was the jewelry. A stunning red coral necklace glistening like candy drew me to the center of the store. Craycraft says most of the bohemian and rhinestone jewelry is imported, but she designs red coral, turquoise, and quartz crystal pieces.
The racks overflow with Sergeant Pepper-inspired tailcoats, military jackets, tuxedo shirts with frilly-fronts, and classic smoking jackets. Craycraft says the store is a great outlet for her sewing — she transforms men's jackets into "tricked-out formalwear." For accessories, she also has military hats, leather tap shoes, and antique shaving cups (a teacup with a mustache rest).
For an extra element of pizzazz, the extensive collection of Ralph Marlin bowties embody fine art. My favorite is Van Gogh's Starry Night. Of course, I had to try it on. Luckily, a bow-tying guide is posted on the wall for the newbies like me.

Although the men's collection is broad, the other half of the store is devoted to the Madonna, Ginger Rogers, and Marilyn Monroe aficionados.

With an array of flapper dresses, 1950s-esque sweaters, Western-prairie jackets, delicate lace dresses, and Pamela Anderson platform shoes, customers are sure to find the perfect piece to create a vintage inspired look that makes a bold statement.

The showstoppers for the women are a 1980s-style sequined Madonna-themed wedding dress, and a Marilyn Monroe fur shrug with a beaded clutch.
Speaking of fur, there is a whole rack of fur shrugs; some of them are more than 60 years old. I took the liberty of wrapping myself in one, and then slipped into a pair of what Craycraft calls "purple hooker shoes." I felt like J-Lo in a cabaret.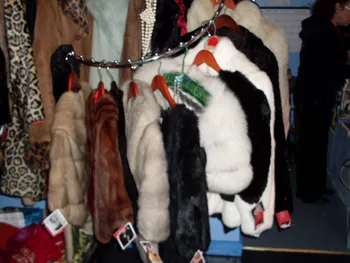 The best part about Backstage is you can rent or purchase the outfits you love. That's right; you can rent a complete outfit for $35 per weekend. Stop in during the month of February and enjoy 20 percent off of everything in the store.