Now that the traffic had cleared, the parties are over and the CIAA 2012 Champions have been officially crowned, I simply MUST offer my own little fashion recap.
First and foremost, I noticed there were a few ladies who somehow missed my previous blog post on suggestions of what to wear and as expected, I ran into a number of fashion no-no's. I must say that these anonymous toes (photo found on Facebook, taken by a secret style source not to be named), wins the prize for "Top Fashion Failure". As you can see, "toe-overhang" is never a good look.
But aside from summer sandals in February/March and fur coats (in North Carolina, of all places) in almost 70-degree weather, I will move on because I like to accentuate the positive.
There were quite a few fashion favorites. Starting with the boots this young lady wore for CIAA day activities. I spotted her in the ladies room at the Westin Hotel. The boots were super cute and unique but I did wonder how comfy they are. Oh well, sometimes fashion is pain.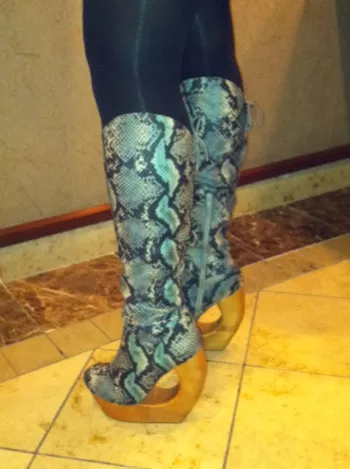 On Friday, the First Lady, Michelle Obama made an appearance at the arena and of course she looked as fabulous as ever. Very "classic casual." I was close enough (thank goodness for media credentials) to snag this photo, but I would have loved to be granted a one-on-one with her to ask the obvious, non-political question. "So, who are you wearing?" She looked great in one of my favorites: a crisp white shirt. Nothing says chic quite like it!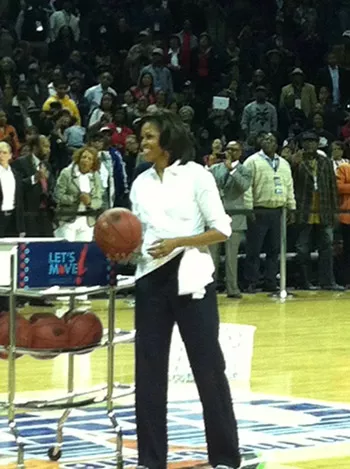 Then, I spotted this "appropriately dressed for the occasion" women at the Bobcats Arena by the name of Beverly Irby, CEO of C.W. Williams Community Health Center. She was wearing a sparkly "Obama" tee so apparently, she was completely in the know about the First Lady's appearance well in advance.
And finally, I reported earlier in the week about a number of fashionable events scheduled to take place, one of which was the "So Vintage" fashion show at The Ritz Carlton. These photos taken by Jamar Caldwell of Bleusol Photography are a great representation of what you missed if you couldn't make it out to the show.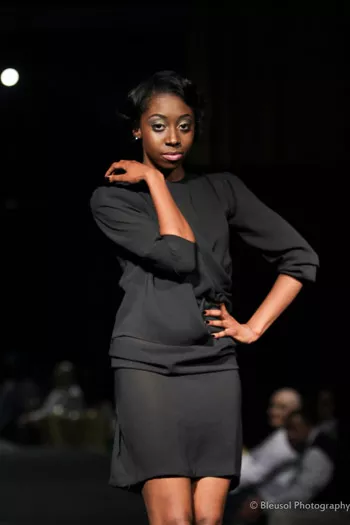 Bleusol Photography/Jamar Caldwell
In all, there were a lot of "do's" and "don'ts," but I'm sure that's to be expected during any given event. Until next year ...
T. Strong is a TV personality, personal stylist and fashion journalist who contributes commentary on Creative Loafing's Klepto blog in addition to writing for several other national media organizations. To learn more visit www.StyleMayvin.com or follow "therealtstrong" on Twitter.
EDITOR'S NOTE:
CIAA party weekend has certainly become a time for people to do everything they can to be noticed. On that note, here are some looks from CL's nightlife coverage that caught my eye. Some were fabulous; others ... well, not so much. I'll let you decide. Nonetheless, all were attention-grabbing.
— Kim Lawson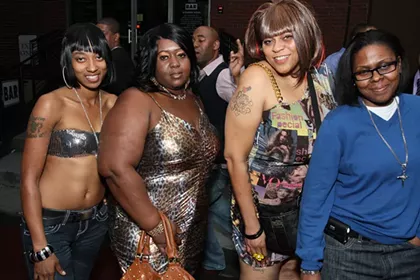 16 slides