Hunting for Easter decor? Hop on over to RedSky Gallery! (Bad puns intended.)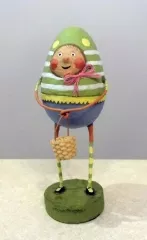 In the great tradition of holiday decorating, Halloween and Christmas are the belles of the ball, while everything else suffers a fair amount of snubbing. Give your Easter a whimsical touch with items like the Lori Mitchell figure featured above, selling at 40 percent off from now through Saturday.
While you're there, don't hesitate to indulge yourself with a few "just for me" purchases-all jewelry is currently 15 percent off.