Gemini (May 21- June 20)
Styleascope is a lighthearted horoscope that puts a spotlight on local fashion. Believe it or not, Zodiac signs say a lot about a person. They speak to an individual's strengths, weaknesses, romantic attractions, values, desires and ... fashion sense? Yep! The stars can serve as a personal stylist, too. No sign is alike, so your wardrobes shouldn't be either. My aim is to blend fashion and the cosmos by providing a guide to show you what's in store at local boutiques (and why your sign is telling you to wear it). Instead of the runway, I'll use the stars as my guide. So, what's your sign?
Name: Sara Delaney
Birthday: June 16 (Shares the sign with boho chic twins Mary Kate and Ashley Olsen)
Age: 22
Do you read your horoscope?: "I do read my horoscope. I like to have an idea of how the world is going to play out for me that day. Whether it says it's going to be a good or bad day, it's interesting to see what happens."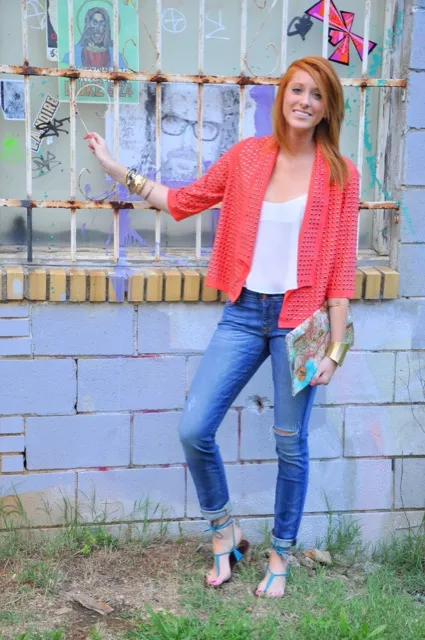 The Gemini is quite possibly the most intriguing sign out there. Its name is derived from the Latin word for "twins" and is commonly associated with the twins Castor and Pollux, from Greek Mythology. Because of the sign's versatile nature, it's hard to pin a Gemini down on paper. Its duality often labels them as having erratic mood changes or a split personality. But many Geminis are just open to change, which surely translates into a style that varies. As an air sign, Geminian personality is a match to its natural element. Unpredictable as a feather afloat, you can never really be sure what a Gemini will do next, especially when it comes to the execution of an outfit. One thing that's certain is that a Gemini loves to stand out. They're drawn to bold colors like shades of yellow, orange and magenta. Because their ruling parts are the hands, fingers and arms, you'll most likely see a Gemini donning rings and bangles as accessories. The witty, outgoing and adventurous Gemini loves to charm in conversation and style. With a creative edge, the Gemini is a natural born trendsetter who isn't afraid to take risks. Open a Gemini's closet and you'll stumble upon a wardrobe that's as diverse and eclectic as the wearer. (Source)
All pieces found at Vivian B, 3100 N. Davidson St.
Crop top: Double Zero
Studded jacket: Blaque Label
Jeans: 7 For All Mankind
Bracelets: Gold bangles from Ghana exclusive to Vivian B in Charlotte.