Last weekend when I went out on Lake Norman, I garnered a new nickname: Captain Safety.
That's because I spent the entire day with a dolphin-shaped floatation device around my waist, a Steeplechase sized hat, and enough SPF to keep an Albino white — and then proceeded to go around and tell everyone to wear protection.
You can never be too careful in the sun ... or in the bedroom. Going into both unprotected can leave you with a burning sensation.
When I was at Whisky River the other night, the bartender, Marky Mark, noticed my Sponge Bob Square Pants band-aid covering my pinky when I reached out to grab my "Slutty Shirley Temple " from him.
So, being the good bartender he is, he reached into his pocket and handed me this ...
click to enlarge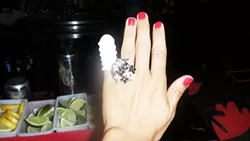 A finger condom.
Apparently these are used to cover small wounds on the hands to keep the band-aid in place and protect the wound, keeping it sanitary. And to prevent you from contaminating everything you touch. You can get them at drug stores. What's a better look — wearing a mini condom on your pinky or a little kids band-aid?
I got really excited about these finger condoms. Now my ex can get condoms that fit him .... kidding.