I would like to present you, dear reader, with a very serious question. I would like for you to mull over it slowly and deliberately in your brain space. Lend this question careful consideration before answering, because there really is only one appropriate response.
Question: What is more fun than eating chicken fingers while drag queens sing for you in elaborate costumes and stage a murder mystery?
Answer: Not a thing. Never. Not ever, do you hear me?
I spent the evening of Halloween being regaled at Buff Faye's Murder Mystery Diner, housed at Hartigan's Irish Pub. Quite frankly, I now aspire to be a drag queen. I know, I know, anatomically this isn't viable, but I plan to at least start wearing extra heavy makeup and a heck of a lot more rhinestones and fishnet pantyhose. This was one of the most entertaining things I have done in quite some time, only rivaled by making up an entire song's worth of dance while drinking Smirnoff Ices with my best friend and performing it in costume to a captive audience. I might have a serious affection for costumes.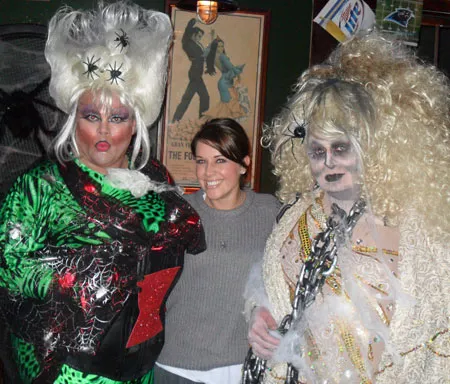 Hartigan's was welcoming, even completely covered in floor to ceiling spider webs. The crowd was lively and interactive, and the fish bowls are served just as they should be, large and with a swirly straw. Mine came complete with gummy eyeballs and enough alcohol content to give me the chuckles half way through. They are limit two per person and rightfully so. Every patron participating in the Murder Mystery show received a "Who Done it" ballot for voting and a box of crayons. You heard me: We each got a box of crayons. Well, I was forced to reluctantly share mine with my friend Kyle, but I cooled it with the resentment after he was announced the "Drag Bitch" of the evening, and they made him pick up dollar bills and put on a dress stuffed (ever so tightly) with balloon breasts. FINE Kyle, you can use the blue even though it's getting dull, which makes it harder for me to stay in the lines of this tiny scary tree. That's just the kind of friend I am.
So, back to my previous question, and then to pose another. What is more fun than eating fried snacks while being entertained by men, at times very convincingly, dressed as women with questionable taste? Um, nothing. When should you experience this magic for yourself? Buff Faye hosts a drag brunch every Sunday at Hartigan's, each week with a portion of the proceeds going to a worthy charitable cause. I'd dare to say that this brunch experience would be beat the brakes off my recent visit to The Country Breakfast Jamboree, or as I like to refer to it, Breakfast Sequins Extravaganza, currently showing in Gatlinburg, Tenn. Let's be honest, it's hard to out "camp" Gatlinburg.
Oh, and who done it? Miley Virus, with poison hairspray.
For more information and a calendar of events for Hartigan's, visit: www.hartigan's.com
For more information on the local drag events or makeup tips, visit: http://site.bufffaye.com/
Megan Henshall is a project coordinator by day, favorite child, rollerskating enthusiast, blogger, and lover of all things social and under appreciated. For more writing/ramblings/rants visit http://www.dearsuchandso-keyboardventing.blogspot.com.