I love the nightlife, I love to boogie and I don't give a damn who you partner with on or off the dance floor. The "Vote NO Drag Show" at Hartigan's Pub is an event clearly designed for people after my own heart.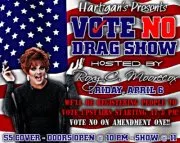 Taking place tonight, April 6, the show aims to raise awareness for the preposterous yet very real threat proposed by Amendment One. Hosted by Roxy C. Moorecox and featuring performances by entertainers such as Jamie Monroe (Ms. North Carolina USA 2012/2013), the event will also serve to further engage partygoers by having someone on hand to register new voters, from 8pm through the end of the show.
All in all, it's about having a great time with a great crowd, loving it and them, and refusing to let anyone tell you who you should love.
18+. Doors open at 10 p.m.