Some occasions call for a red carpet to be rolled out. Others for the installation of a bright orange, 200 foot long steel art canopy. The Ten at Park Lanes (1700 Montford Dr.)"> grand opening falls under the latter category.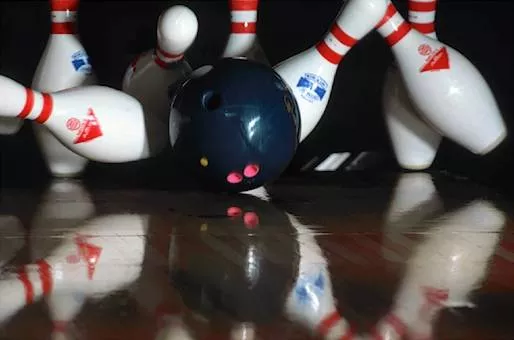 Formerly and famously known as George Pappas' Park Lanes, ownership of the popular bowling alley changed over to Montford Bowling Partners last April. Partner Adam Williams, a born and raised Charlottean, has been a regular visitor since he was a kid. "I never would've thought I'd be doing this project," says Williams, "but I'm lucky to do it.
The key aspect of the renovation can be summed up with one word: Americana. Ten has been renovated to echo the feel of the original space. The design of the patio draws inspiration from the architectural style called "googie," which was especially popular from the mid '50s to mid '60s. "Obviously we updated mechanical systems and audiovisuals and all that," says Williams, "but everything we're doing is homage to that period."
With a background in commercial real estate and experience working with numerous area restaurants, Williams saw the property's potential to evolve from a landmark bowling alley into a one-stop entertainment destination. The space includes an indoor lounge and bar area, three separate outdoor patios and a 24 tap outdoor beer garden. If gaming's your thing but bowling isn't cutting it, you can try your hand at one of four sets of cornhole boards and, eventually, ping pong tables, two bocce ball courts and more.
Should hunger strike, Ten's customers should know that they don't need to stray to find a satisfying meal. The kitchen abides by a "scratch-made comfort food" philosophy, serving up everything from barbeque to flatbreads made with naan. "I want you to be just as likely to come here to eat as you are to bowl," says Williams. "The food definitely isn't what you'd expect from a bowling alley."
Keeping with the Americana concept, Ten also boasts a unique feature sure to catch on throughout town: a fully stocked moonshine bar, fabricated to resemble a modern day moonshine still. "We really want to introduce people to what our signature is in terms of liquor, what we offer that no one else has," says event coordinator Kaitlyn Lamb. "I don't know what says 'Americana' more than a moonshine bar." All the moonshine is made in NC, TN and VA, mirroring the drink local trend. "We thought it'd be really fun to give a nod to something that's been part of North Carolina," says Williams.
Today's daylong celebration offers free bowling, a moonshine tasting and live music. Both Lamb and Williams hope that Ten will draw an eclectic crowd representative of Charlotte's various neighborhoods, whether they bowl strikes or gutterballs. "I'm not a good bowler," says Williams. "But that's not what it's about. It's about the sheer enjoyment that people get out of going out and really interacting with each other. "