It's never too early to start thinking about Halloween. After all, it's only September and many of the haunted attractions in Charlotte and the surrounding area are already starting up. For details on Halloween events - including parties, haunted houses and seasonal activities - check out our big, growing list below. Not on the list? To get added, email anita.overcash@creativeloafing.com.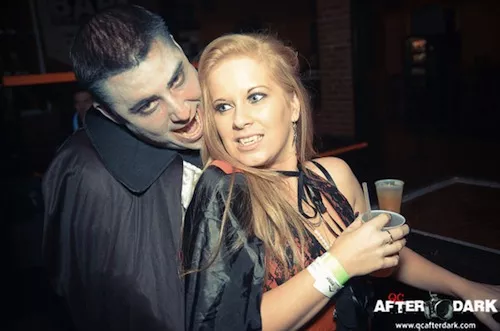 Ongoing Haunted Attractions
Amazing Maize Maze Approximately two and a half miles of pathways in an operating cornfield. The Amazing Maize Maze challenges folks to think strategically as they search clues that lead to the maze exit. Day maze and night (flashlight) maze tickets available. For more information, visit www.ruralhill.net/amazingmaizemaze.asp. $7-$15. Fridays-Sundays through Nov. 3. Rural Hill, 4431 Neck Road, Huntersville. 704-875-3113. www.ruralhill.net.
Camp Fear The multi-attraction event features a haunted trail, a maze, "Clown Chaos", an "Insane Asylum", a "Living dead Dollhouse," and a "Freak Show." $14-$18. Oct. 11-12; Oct. 18-19; Oct. 25-26; Oct. 31; Nov. 1-2. Camp Fear, 601 Princess Lane, Hiddenite. For more information, visit www.campfearnc.com.
Campground Massacre Haunted attraction with more than three acres of terror for brave visitors who dare to explore the campground. $20. Fridays-Sundays. Through Nov. 2. The Charlotte/Fort Mill KOA RV Park and Campground, 940 Gold Hill Road, Fort Mill. For more information, call 866-752-7437 or visit www.themassacre.com.
Ghost Tales in the Dark Tour Explore the plantation by candlelight and hear real ghost stories from staff and volunteers. RSVP is required. To register, call 704-875-2312. $15. Oct. 11, 8, 9 and 10 p.m.; Oct. 12, 7, 8, 9 and 10 p.m.; Oct. 18, 8, 9 and 10 p.m.; Oct. 19, 7, 8, 9 and 10 p.m. Historic Latta Plantation, 5225 Sample Road, Huntersville. 704-875-2312. www.lattaplantation.org.
The Haunted Mill One of the Charlotte-area's scariest haunted attractions with a special "mature"-themed shows offered. $10-$50. Oct. 11-13; Oct. 17-20; Oct. 24-31; Nov. 1-2. The Haunted Mill, 6325 Wilkinson Blvd., Belmont. For more information, call 704-829-6455 or visit www.thehauntedmillnc.com.
The Scarepark The Speedpark at Concord Mills has transformed into a haunted park including haunted mini-golf, a haunted hay ride, fun slide, spider web bungee, go-karts and more. Open every Friday and Saturday night from 6 p.m. to 11 p.m. Open every night starting Oct. 24 through Oct.31. $5-$25. The Speedpark, 8461 Concord Mills Blvd., Concord. 704-5278-464. www.speedpark.com.
Davidson Ghost Walk Walk around the city of Davidson and hear stories of the town's spooky history. $10 for adults, $5 for children. Every weekend in October. Walks begin at 7 p.m. Reservations recommended. 704-928-5454. www.ghostwalknc.com
Queen City Ghost Tours Explore the darker side of Charlotte on this tour around the city. Hear ghost stories about Charlotte's haunted past. $8-$15. Oct. 9-31. Times: 6 p.m., 7:30 p.m., & 9 p.m. www.queencityghosttours.com