click to enlarge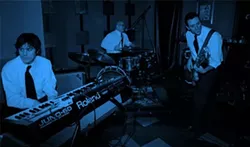 The cool house music band Tortured Soul is coming to Charlotte's Visulite Theater on March 25.
If you've never heard the group, let me explain the band's sound: it's house music created using live instruments, not computers.
I recently played a track by the band on my podcast, Audiofloss. Here's a link to that episode: http://blogs.creativeloafing.com/audiofloss/2007/11/28/the-all-house-music-edition/Â
In addition, I wrote a story about them a few years ago for the Atlanta edition of Creative Loafing. Here's the text from that story:
Man vs. Machine
Tortured Soul brings humanity to house music
 By Carlton Hargro
John Henry vs. the steam driver. Capt. Picard vs. the Borg. Neo vs. Agent Smith.
Since the creation of the pulley, it seems that mankind has been locked in a war against machines; a war to prove that humanity is better, stronger, faster and smarter than the technology we create.
In the world of music, the struggle for human dominance is even more pronounced. Musicians trained to play trumpets, guitars and other "organic" instruments often find themselves locked out of an industry that drops more dollars for synthesized sounds and sequenced tracks. But one band of artists -- the New York-based trio Tortured Soul -- has found a way to survive and thrive in today's mechanized musical landscape.
The group -- drummer/vocalist John-Christian Urich, keyboardist Ethan White, and bassist JKriv -- specializes in pumping out house music via live bass, drums and keyboards instead of laptops.
"The phrase we usually use [to describe the Tortured Soul sound] is live, soulful house," says White. "We wanted to basically perform dance music live. When people usually do that, it comes off like old-school funk or soul and we didn't want to be like a throwback. So we chose this format because it was the way for us to do what we like to do but cast in the most modern context possible. And one of the most modern forms of dance music is house music."
Known for crafting bass-heavy, melodic tunes laced with soul-drenched vocals and a thumping disco beat, Tortured Soul -- scheduled to play Apache Cafe this Saturday -- is almost obsessively dedicated to challenging electronic sounds. During live shows, for example, the band skips the between-song chatter, opting to play one continuous set.
"We never want the energy to dip. We never want the music to break. We want the energy to build over the set and never let up," says JKriv "It's sort of the same reason a DJ doesn't stop playing records for a second when he's putting on a new track. That's when the crowd walks off the floor."
Formed in Urich's Brooklyn basement studio in 2001, Tortured Soul's first recordings were released as singles that later appeared on numerous compilation and mixed CDs. In 2004, the band dropped its debut album, Introducing Tortured Soul, on the small indie label Purpose Records. (In March 2006, Introducing Tortured Soul was rereleased by R2 Records. That version of the CD features two bonus tracks and marks the first international distribution of the album.) Without the power and resources of a major record company, Tortured Soul quickly made the choice to hit the road and spread its musical message one city at a time.
"We love to tour and love to play. But as far as bigger, better promotion, we would love to have it. Right now, it's still a very homegrown thing. We haven't got the backing of anyone really huge behind this thing," White says.
"We basically had two choices because the backing wasn't there," says JKriv. "It was either wait around and nothing ever happens or get off our asses and hit the road and bring it right to peoples' ears."
Tortured Soul's first visit to Atlanta packed the house at MJQ in 2003. A year later, the group played the Cotton Club to a disappointingly small crowd -- and hasn't returned to the A since. JKriv promises to present a different show when the group hits town this week.
"Since the last time we played in Atlanta, we've probably done at least 100 concerts," he says. "I think it's tightened up and developed more. Overall, we've gotten more polished as a unit."