Every time I think the fanboys – whom I really believe will be the cause of the destruction of quality cinema as we know it – responding to the IMDb (International Movie Database) polls can't show their myopic ignorance any more, they surprise me. One of the questions earlier this week was, "Which of David Lean's films would you call your favorite?" A good question, and while the top answer would doubtless be Lawrence of Arabia, it's certain that The Bridge On the River Kwai, Oliver Twist, Doctor Zhivago and Brief Encounter (to name but a few) would also have their ardent supporters.
click to enlarge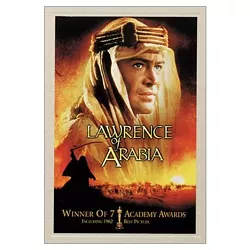 Lawrence of Arabia did indeed top the poll, with 27.8 percent of the vote. But right behind with 26.6 percent of the final tally? "I am not familiar with Mr. Lean's work." That means over a quarter of the folks who check out the world's largest movie site – people you think would care about all types of films, even those made before, oh, 2002 – haven't experienced Lawrence or any of the other classics made by one of cinema's greatest directors. It's the same similarly dispiriting results for any IMDb poll that somehow doesn't involve The Lord of the Rings, 300, Grindhouse or Pirates of the Caribbean.
Sigh ... If only Lean (who passed away in 1991) had lived long enough to be able to helm at least one Rush Hour sequel, his legacy would be intact.