click to enlarge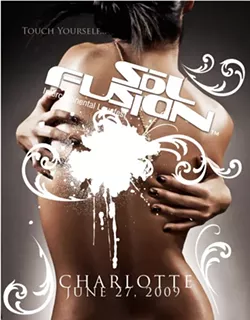 Denizens of Charlotte's nightlife, it's time to get excited: The funky, "intercontinental love fest" known as Sol-Fusion is coming to the Queen City on Saturday, June 27.
What exactly is Sol-Fusion? Well, the easy answer to that question is it's a club/DJ/dance event that was birthed in Atlanta and has been THE party to attend there for years. But, for all the other details about the shindig, let's hear what the guys behind Sol-Fusion Charlotte (which will feature sounds by DJ Kemit and DJ D.R.) — Atlanta-based promoter J. Carter and Charlotte-based promoter Mike Kitchen — have to say:
Creative Loafing: First thing I wanna know is, for people who have never been to Sol-Fusion, how would you describe it?
J. Carter: Hmmm … the best way to describe it is, if they remember that feeling when they were like in 11th and 12th grade in their friend's parents' basement and they would just let go and party like it was nobody's business — I would explain it much, much like that. But I would also kind of describe it as more so a party for someone who would have anything from rock, classic-hip hop, reggae, funk, disco, [or] house, in their iPod … You know, so it's a party for a more trained-ear individual.
Now, this party started in Atlanta and it's a success there; but how do you think Charlotte — which is regarded by many as a fickle market for nightlife events — will receive it?
Mike Kitchen: Kitch: I think they'll receive it well because I think its time for it. When we originally talked about it, which was years, years, years ago, Charlotte wasn't ready for it at that time. I don't think we had the right type of folks who would enjoy entertainment like that. But now, being that you have different people moving in and out all the time, and plus we have different events that pretty much cultivate that type of music and movement that I think it's ready for.
J. Carter: I think that the one good thing that ya'll have out in Charlotte is there's a lot of transplants. There's folks that are from the Northeast that have relocated to Charlotte. There's actually quite a few transplants from the Atlanta area as well. It just seems like there are a lot of people in Charlotte that are from different areas that appreciate all different types of music. And that's what Sol-Fusion is, man. And your boy Kitchen has a strong base in Charlotte, and people basically know what he offers and the types of events and the style that he offers. So I think we're gonna be OK. And if they ain't ready for us, they better get ready. Cause we're not gonna water down how we do and how we party. And Kemit's gonna give you Kemit. So, you know, when we leave on Sunday, they're gonna be like "What the hell was that?" — in a good way. So we're already planning for the second trip.
What exactly can people expect when they come to Sol-Fusion?
Carter: I think what we're gonna do is mainly just show them the variety of music and the style and just how we party. I think the first one should just be a really good introduction.
Kitchen: Its gonna be a mini version of the one in Atlanta. The music's definitely gonna be totally different. Of course the people are gonna be somewhat different because some people from Atlanta are coming up. I'm sure this one's gonna do well, and then once it does well, we'll do it on a bigger scale and that way we can kind of merge the art from that city with the art from this city. Really go full-out, ass-out on them.
Interested? Well to get a better understanding of Sol-Fusion, check out this video clip of the party in action:
For more info, visit www.thesolkitchen.com.