It's, well, it's still under review.
Some important things to know: the ponds, one built in 1957 and the other in 1986, are listed as "high-hazards" because they're close to a large population, not because the EPA suspects they may collapse.
Currently, Duke Energy is in compliance with current state and federal regulations. While the coal ash ponds were, up until this summer, regulated by an arm of the N.C. Commerce Department, they are now the responsibility of the North Carolina Department of Environment and Natural Resources.
The Riverbend plant, which is located just up Brookshire Boulevard from Uptown, is supposed to be thoroughly inspected by a third-party this fall.
Some other things to know: the ground water near two unlined, high-hazard ponds is so close to the surface that it bubbles out of the wells that were drilled to monitor the ground water. The ponds also sit on the edge of Mountain Island Lake, Charlotte's main source for drinking water.
How close are Duke Energy's two unlined, high-hazard coal ash ponds to Charlotte-Mecklenburg's drinking water intake, at the Catawba River Pumping Station? See for yourself. (Once you click the link, the ponds are visible near the top-right of the image. The pumping station is labeled "A.")
click to enlarge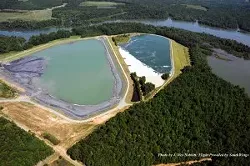 Duke Energy is expected to respond this week to recommendations the U.S. Environmental Protection Agency has made to strengthen two unlined coal ash ponds behind the company's Riverbend Steam Station in the Mountain Island area.

The ponds sit on the edge of Mountain Island Lake and three miles upstream from the Catawba River Pumping Station, where drinking water for most of Charlotte-Mecklenburg is pulled.

The U.S. Environmental Protection Agency listed the ponds as having "high-hazard potential" in June. That means, according to the agency, "Failure or mis-operation will probably cause the loss of human life."

That is in addition to the catastrophic environmental and economic damage a breach would cause.

Since then, the Environmental Protection Agency has released a draft of their assessment of the ponds, stating that the ponds are in "satisfactory" condition. The assessment includes a list of 10 improvement recommendations. It also states that the closest town to the ponds is six miles away and called "Mountain Island."

"I'm not sure what they meant there," says Duke Energy representative Andy Thompson.

The closest town to the coal ash ponds is, of course, the city of Charlotte.

The Environmental Protection Agency has not responded to a request from the Mountain Island Weekly for an explanation.
More from The Carolina Weekly Newspapers.
Why is the EPA, and everyone else, so concerned? Because this is what happened when a coal ash pond breeched in Tennessee this past December: