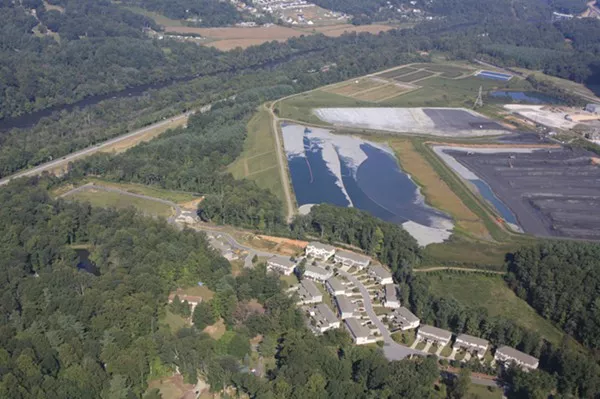 South Wings and Appalachian Voices
Coal ash ponds near Asheville
Today is the last day to comment on the settlement that's been proposed between North Carolina's Department of Environment and Natural Resources and Duke Energy that could end the state's lawsuit over coal ash contamination in state waterways. To comment, all you have to do is email your remarks to lisa.palmer@ncdenr.gov.
Without getting too deep into the litigious weeds, Duke Energy has been sued several times by different entities in recent months over coal ash contamination polluting North Carolina waterways, including Mountain Island Lake, which is the main drinking water source for the Charlotte-metro area.
There are lawsuits pending in Mecklenburg and Wake counties and in federal court, but the aim of the litigants is the same in all cases: force Duke Energy to clean up coal ash impoundments that are contaminating state waterways.
It's important to note that whether or not the company's coal ash ponds are contaminating water isn't at issue - we already know that the state has more unlined, high-hazard coal ash ponds that any other state and that those ponds are contaminating groundwater and draining things like arsenic into bodies of surface water - as per the company's own record keeping. The real issue is whether Duke Energy's coal ash ponds are contaminating ground and surface water outside of compliance boundaries that sometimes end up in the very bodies of water the company claims it's not impacting.
In regard to the state's lawsuits against Duke Energy, the two entities have come up with a "settlement" (it's actually called a proposed consent order) that's pending in state court regarding the Department of Environment and Natural Resources' lawsuit against Duke Energy. In that lawsuit, the state alleges that the power company is contaminating water near both Asheville and Charlotte and that contaminated water is bad for humans and the environment.
It's the settlement for this lawsuit that the public has been invited to comment on, but today is the last day to do so. In great news, and as we pointed out before, the comment process is as easy as sending an email to lisa.palmer@ncdenr.gov. Seriously. That is all you have to do to have a say-so in one of the pending coal ash lawsuits against Duke Energy.
Review the state's documentation for this lawsuit here.
Susan Massengale of the N.C. Department of Environment and Natural Resources wrote in an email, "We encourage all interested groups and individuals to send us whatever documentation, data and additional materials they feel should be included that is related to this issue. It will all become part of the public record."
Massengale went on to explain how the public comments will be factored into the state's and the judge's decision-making process:
The public comment period lasts 30 days, until August 14. After that, staff will take 30 days to review the comments received and make recommendations for any appropriate changes to the document. A summary of the comments and the final proposed agreement will be given to the Superior Court judge presiding over civil actions. The judge can take whatever time he or she feels is appropriate to review the materials before making a decision.