Check out these events going down in Charlotte and the surrounding area this weekend— as selected by the folks at Creative Loafing.
Friday, Aug. 6
click to enlarge
The Lost Art Form of Artistic Artistry
The Art House
As a member of the art collective God City, local visual artist wOlly Vinyl has (over the last few years) created some of the city's most provocative works of art. Expect this trend to continue in his latest solo show, The Lost Art Form of Artistic Artistry, which will explore "the concept of creation and creativity." The opening reception will be held at The Art House in NoDa tonight.
• Film Tonight at Regal Park Terrace there will be a film screening of Restrepo – an award-winning documentary at the 2010 Sundance Film Festival. Journalists Tim Hetherington and Sebastian Junger put themselves in the shoes of soldiers by tagging along to the remote Korengal, Afghanistan. more...
• Art Move over, Santa. Local artist (and tattooist at Anything's Possible in Mooresville) Elf is bringing his canvassed goodies to Baku Gallery in NoDa. His exhibit, Elf's One-Man Art Show, features a range of styles, including portraits, abstract pieces and fantasy works. more...
Saturday, Aug. 7
click to enlarge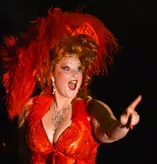 Big Mammas House of Burlesque
Visulite Theatre
During Big Mammas House of Burlesque's latest show — this time around, called "Heroes versus Villains" — at Visulite Theatre, you can expect an environment like something straight outta a graphic novel. Considering the skimpy attire that most good/wicked females are featured wearing in comics, I'm sure this is going to be one sexy shindig, with no supernatural powers needed.
• Art Black Sheep and Twenty-Two Gallery are collaborating for a funky new exhibit titled Let the Good Times Roll — and its opening reception is tonight. Featuring custom-decorated skateboards from a variety of underground artists, the exhibit is also raising money for Letthegoodtimesroll.org, which is described as a "grassroots organization dedicated to raising awareness concerning the need for legal, noninvasive places to skateboard in Charlotte, North Carolina." more...
• Film NoDa is ever changing, and this evening Back in the Day History Committee for Historic North Charlotte Neighborhood Association wants to reflect on that thought exactly. The 1996 documentary NoDa: The Evolution of North Charlotte's Historic Art District (produced and directed by Jerry Kirk and funded by Jack Burke) will be screened at The Evening Muse. more...
Sunday, Aug. 8
click to enlarge
Othello
McGlohon Theatre
Emotions (especially the bad ones) can be dangerous sometimes. Road rage is the perfect example, but since that was before William Shakespeare's time, he stuck with the pure perils of jealousy and prejudices in his Othello. Collaborative Arts' Charlotte Shakespeare Festival continues this evening with indoor showings of the tragedy at McGlohon Theatre.
• Music Local musician Dylan Gilbert is set to perform at Snug Harbor tonight with his new backing band The Over Easy Breakfast Machine. Expect to hear some tunes from his latest CD, Pangaea. Performing with Lucky Five, The Have and the Have Nots and Linus van Pelt. more...
• Theater Author Cormac McCarthy is an expert at penning thought-provoking themes to paper. Though, he's better known for his novels — No Country For Old Men, All the Pretty Horses, The Road, Blood Meridian, among others — McCarthy has also dabbled in play writing. This resulted in The Sunset Ltd., which 3M Productions is bringing to the stage Duke Energy Theatre today. The play revolves around two characters — the suicidal "White" and the redeemed ex-convict "Black" — who debate the meaning of life and the existence of God. more...