Check out these events going down in Charlotte and the surrounding area this weekend— as selected by the folks at Creative Loafing.
Friday, Aug. 27
click to enlarge
Mary Poppins
Belk Theater
It's really no wonder that wild children could become tame in the presence of Mary Poppins. She's the perfect fictional nanny, making things come alive, flying with umbrella in hand, and more importantly, teaching children to behave and a busy working father how to love and make time for his family. Combining original stories by P.L. Travers and the Walt Disney film, the Tony Award-winning Mary Poppins — produced by Disney and Cameron Mackintosh — continues its run at Belk Theater tonight.
• Film It's already starting to get cooler outside, so embrace the outdoors while you can. Tonight during the Movies Under the Stars series, taking place outside at SouthPark Mall, you can watch Harry Potter & The Half Blood Prince on the big screen for free. more...
• Art Drop by Gallery Up today for a look at its newest exhibition, Reverie. It features drawings and paintings by Rock Hill artist Harriet Marshall Goode and Finnish artist Merja Isomaa-James. more...
Saturday, Aug. 28
click to enlarge
White Trash Party
The Ultimate Gym
Getting down and dirty trailer-trash style has never been so easy, especially since Nasty Productions began hosting its White Trash theme parties. This year's White Trash Party marks No. 6. Dress as redneck-like as possible to win prizes in a costume contest. Other fun in the mix includes a white trash car competition, a wet T-shirt contest, a motorcycle burnout competition, a lawn mower race and more. Trashy sounds will be provided by a DJ and bands such as The Brown Liquor Pickers, The Loose Lugnuts and, as always, the costume clad parody primers Iron Cordoba. Oh, and this is a benefit for the Police K9 Foundation, so add to the beer gut (and do some good for pooches in need of safety vests) by paying a visit to the cash bar and coming out.
• Festival Comfort the soul via food and music during the Soul Food Festival, which stops into the Q.C. today. This type of food might not be the healthiest for ya, but it sure tastes good. You'll definitely sweat out some of that grease in the heat, though, while you watch performances by musicians Jeffrey Osborn, SOS Band, Dru Hill, Brownstone, Tevin Campbell and Peabo Bryson. more...
• Special Event Tossing bags of corn into a hole on a raised wooden platform has become a popular sport around town. So much that a tournament called Corn-Holio is set to go down in NoDa today. Registration includes tournament entrance, food from Bojangles and dessert from Amelie's French Bakery, and there will be prizes for teams that come in first, second and third. Also, proceeds from this event will go toward the NoDa Neighborhood Association and the Johnston YMCA. more...
Sunday, Aug. 29
click to enlarge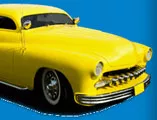 Food Lion Auto Fair
Charlotte Motor Speedway
Every year car lovers make their way to Charlotte Motor Speedway for the annual Food Lion Auto Fair. This event features 50 car club displays, as well as vendors with a variety of automotive parts and memorabilia, autograph sessions with NASCAR drivers and more.
• Special Event For those of you in dire need of home improvement help, the Southern Ideal Home Show at The Park Expo & Conference Center (formerly The Charlotte Merchandise Mart), should come in handy. At the show, experts are on hand to talk about remodeling, decorating and landscaping ideas. more...
• Music San Francisco jam band Tea Leaf Green — on tour in support of their newest 2010 album, Looking West — visits the Q.C. tonight for a performance at Neighborhood Theatre. Opening act is Matone. more...