Check out these events going down in Charlotte and the surrounding area this weekend— as selected by the folks at Creative Loafing.
Friday, Sept. 10
click to enlarge
Yiasou Greek Festival
Holy Trinity Greek Orthodox Cathedral
The annual Yiasou Greek Festival allows folks to immerse themselves in Greek culture without even applying for a passport or booking a flight. Given, it's not exactly the same as really being there, but it is one of the next best things. At the festival, folks can enjoy music and dancing native to Greece, Greek attire and costumes, Greek cuisine (yes, this includes baklava and plenty of other goodies), displays and exhibits on Greece, tours of the cathedral, a lecture series on Greek culture, a "marketplace" with numerous vendors and more.
• Art Last year, poet and Johnson C. Smith University faculty member Kirsten Hemmy asked artist Antoine Williams if she could create some poems based on his paintings. Thus began Free Radicals, a collaborative project that will culminate in a book and exhibition in January. The Ain't Gots, which looks at the growing chasm between the haves and the have nots, is a small part of this larger project. This exhibition, opening tonight at Dialect Gallery, features both Williams' paintings and Hemmy's poems. It also includes an opening-night reading by Hemmy. more...
• Festival The fifth annual Charlotte Literary Festival returns for two days, but with a new feature. This year, host RealEyes Bookstore is teaming up with the Neo-Soul Music Festival for added sounds. All in all, the fest will feature literary appearances by bestselling authors Mary Monroe and Susan Taylor and poet Sonia Sanchez, as well as music by vocalists Dwele, N'dambi and Algebra Blessett. more...
Saturday, Sept. 11
click to enlarge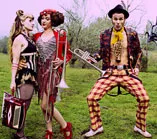 Something Like a Fahamenon
Harvey Gantt Center for African-American Art + Culture
Visual artist Fahamu Pecou — the first artist in residence for the Harvey Gantt Center for African-American Art + Culture (and the subject of a recent Creative Loafing cover story) — is set to launch his Q.C. debut with the event Something Like a Fahamenon. Billed as a '90s jam, the one-night event — featuring music by Atlanta-based DJ Salah Ananse — is part party and part art education effort. According to Pecou, Fahamenon is designed to make "the institution of art accessible to diverse audiences through music, culture and a party atmosphere." So, be sure to bring your dancing shoes — and wear your favorite 1990s-era clothes.
• Festival During the Time Warner Cable BBQ & Blues 2010 approximately 80 teams will compete for best barbecue. The festival also features live music (by Big Bad Voodoo Daddy, The Blue Dogs and The BoDeans), cooking demonstrations and contests, games, an array of beer and barbecue and more. more...
• Theater The bells are ringing, so hop onboard as Actor's Theatre of Charlotte gears up for performances of The 39 Steps — one of Broadway's longest running comedy thrillers. The show, set on a runaway freight train that's traveling across 1930s Europe, is comprised of only four actors who play a number of characters — more than 150 — and create a whole lotta drama on the tracks. more...
Sunday, Sept. 12
click to enlarge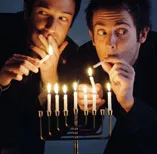 Annie
Theatre Charlotte
Theatre Charlotte makes room for orphans — well, one in particular — during Annie performances. Based off of author Thomas Meehan's famed book, this popular musical tells the story a runaway redhead named Annie, who escapes an NYC orphanage and heads out on an adventure to find her biological parents.
• Festival Foreign, independent and classic films are all included in Revolutionaries: The Don Gibson Theatre Film Weekend, which wraps up today. The fest features a variety of films — including today's screenings of Stormy Weather (starring Lena Horne, Fats Waller and Nicholas Brothers), Wim Wenders' Wings Of Desire and Picnic At Hanging Rock — that have won awards or starred in various prestigious film festivals. more...
• Food Bistro La Bon offers a menu of fanciful cross-cultural borrowings. Try the delicious crisp-skinned free range chicken, accessorized with spinach gnocchi and porcini cream. more...