click to enlarge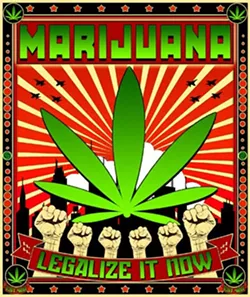 With less than a month to go before the midterm election, Democrats are scratching their collective ass and asking themselves if the can they get young people out to vote by putting pot legalization on the ballot.
Ummm ... what do you think? To everyone besides Democratic political strategists, who apparently like to sit on their hands and get bullied by their opposition, this is a no-brainer. Why? Imagine how much tax revenue they'll be able to generate, something that will benefit everyone, something only those who choose to buy or sell weed will have to pay. Also, think of all the jobs that will be created when distribution becomes something as normal as buying aspirin at the pharmacy — and all of the tax revenue those jobs will generate, too. Think of the empty jails, and how much money we'll save by not incarcerating pot heads.
Yes, fools! Yes. Put pot on the ballot and they will come. Gah! Stop dickin' around and make it happen. Government could use the tax revenue and pot smokers would prefer to procure their weed, and partake of it, without fear ... especially since we all know smoking pot is less harmful than drinking alcohol — which is legal and taxable.
Here's more from The Washington Post:
Some pollsters and party officials say Democratic candidates in California are benefiting from a surge in enthusiasm among young voters eager to back Proposition 19, which would legalize marijuana in certain quantities and permit local governments to regulate and tax it.

Party strategists and marijuana-legalization advocates are discussing whether to push for similar ballot questions in 2012 in Colorado and Nevada—both expected to be crucial to President Barack Obama's re-election—and Washington state, which will have races for governor and seats in both houses of Congress.

Democratic strategists liken the marijuana effort to the 2004 ballot drives to ban gay marriage in Ohio and 10 other states. Whether those measures helped then-President George W. Bush win that year remains a point of debate, as turnout was high even in states without the issue on the ballot. But many conservatives say the measure drove thousands to the polls in Ohio, the election's central battleground, where Mr. Bush won by just two percentage points, or about 118,000 votes.
Read the entire article, by Peter Wallsten, here.
Further reading:
Here's a Harvard University economist discussing why pot should be legal: