Editor's note: We recognize how quickly Charlotte has changed over the years, so here's us trying to preserve its story. In this series, local author David Aaron Moore answers reader-submitted questions about unusual, noteworthy or historic people, places and things in Charlotte and the surrounding metro area. Submit inquires to davidaaronmoore@gmail.com.
Years ago, I heard the story of a Charlotte woman named Mabel Rea who made her way to Hollywood, did relatively well in movies and television in the '50s and '60s, but eventually returned to her hometown, where she met a rather unpleasant demise. I've done Internet research, but I haven't been able to come up with much. Do you know her story? - Laura Lacatena Carriker, Harrisburg, North Carolina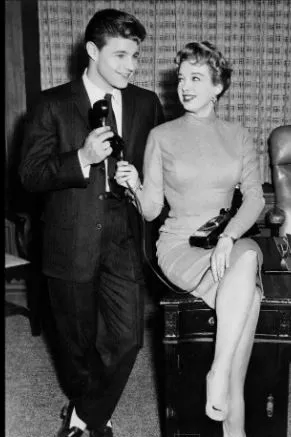 Mabel Rea was a native of Mecklenburg County who left suburban Charlotte right after graduating from Sharon High School and headed for New York City. There, according to what research I was able to dig up on her, she studied drama at the American Academy of Dramatic Arts.
It was during this period that she captured a position as a Radio City Rockette. As her career progressed, she moved from New York City to Los Angeles and dove head first into the Hollywood film and television scene.
By the time Rea made it to Hollywood, the so-called "golden era" was in tatters. Long-term contracted players to former mega studios like MGM, Warner and Paramount were being kicked to the curb in droves, and few new faces were being offered contracts of any sort.
Rea landed a handful of small freelance roles in some important films: "Bundle of Joy" (starring Eddie Fisher and Debbie Reynolds), "Pal Joey" (Frank Sinatra, Rita Hayworth and Kim Novak) and "I Married A Woman" (George Gobel and Diana Dors). Although she never quite made it to the level of notoriety she likely hoped to achieve, she did appear in several b-films and on several television programs, among them, "Perry Mason," "Death Valley Days," "Peter Gunn," "Wagon Train" and, most notably, "The Adventures of Ozzie and Harriet." According to records found on IMDb, she was cast in a number of different roles on the program from 1959 to 1962.
Despite her talent and beauty, Rea apparently saw the writing on the wall. With the studio system gone, television impacting negatively on the movie industry and thousands of other young starry-eyed hopefuls in competition chomping at the bit to make a living as an actor or celebrated personality, she chose to opt out of the business.
Her last small-screen role was in "Ozzie and Harriet," in 1962, where she is listed only as "Blonde."
Why she ultimately decided to move on is unclear. It is interesting to note that she turned 30 the same year. At that time in the entertainment industry, 30 was often considered as teetering over the hill. Did Rea choose that age as a cut-off date for her stab at Hollywood stardom? She had spent a decade trying to break into the business, with limited success. Perhaps she simply realized fame was fleeting and it lacked the stability she had grown up with in North Carolina.
She returned shortly thereafter to Charlotte and changed careers completely, taking on the role of real estate developer and working in conjunction with her father, who owned massive tracts of property in suburban Charlotte.
In fact, Rea Road is named after the family. Three small side roads in the Swan's Run area also commemorate the father, mother and daughter: Weimar Court, Lillian Way and Mabel Way.
With Weilmar's property, the influx of cash Mabel had accrued as a performer and her undeniable charm and good looks, she re-took Charlotte by storm, developing and completing the Swan's Run Apartment complex. At the time it was considered high-end, with a blending of the countryside and city-apartment living.
While Rea had indeed returned to her then-conservative hometown, it's been rumored that she didn't leave behind her Hollywood party girl ways and was always happy to host or attend a fun affair where the drinks were heavy and the atmosphere was light.
That may have led to her demise.
On the evening of Dec. 23, 1968, Rea and her boyfriend, Glenn Eugene Helms (also a foreman on the development of Swan Run), attended a holiday party at the home of their friend Robert G. Ross.
Ross indicated that the pair stayed late into the early morning, leaving the party sometime around 4 a.m. Less than 20 minutes later, while en route in Helms' new Mercedes to the Swan Run complex where they both resided, Helms purportedly lost control of the car.
From the Charlotte News: "An area resident reported the accident about 4:20 a.m. Investigators determined that the car swerved to the right shoulder of the divided highway, then back to the right and off the road. The car crashed into a utility pole and a cedar tree and bounced 23 feet back into the road. There was no indication the driver used brakes. Policemen found both victims lying in the center of the road to the right of the car. Miss Rea's body rested about three feet away, while Helms' feet were still in the car. Police believe that Helms was driving."
The coroner's report confirms that Rea's death was instantaneous: her neck snapped, and she suffered fatal head injuries. Helms, according to news reports of the time, survived the crash, though his fate beyond a final update of "fair condition" is unknown.
While Rea never became a household name, she definitely left behind a legacy: Swan's Run, Mabel Way and a clip of a television appearance from "Death Valley Days" that can be seen on YouTube, where she utters the unforgettable line, "Well, I'm sure his gold isn't nearly as pretty as yours."
More recently, she was the subject of a song recorded by local musician Randy Franklin. Included on his recently released CD Bloodlines, it's a Southern rock ballad called "Mabel Rea."
David Aaron Moore is the author of Charlotte: Murder, Mystery and Mayhem. His writings have appeared in numerous publications throughout the U.S. and Canada.