Check out these events going down in Charlotte and the surrounding area this weekend— as selected by the folks at Creative Loafing.
Friday, Oct. 8
click to enlarge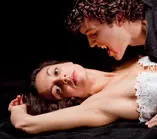 Dracula
Knight Theater
Vampires are all the rage right now. Unfortunately, the quality of these blood-loving biters has strayed from ruthless fiend to sparkling sentimentalist (Thanks a lot, Twilight). North Carolina Dance Theatre has chosen to summon a classic in the vein with performances of Dracula. Mark Godden's gothic ballet uses a mysterious blend of bats, transformations and seductive dance to suck you into an even higher immortal fever.
• Art Art meets literature during the Culture Initiative's Troubled Life: A Commemoration of Edgar Allan Poe at Baku Art Gallery. For the exhibition, participating artists were assigned to create artwork for a specific story by Poe. "The Black Cat," "The Pit and The Pendulum," "The Raven," and other gloomy tales are among the selections. more...
• Music Jon Lindsay is performing two nights at Petra's Piano Bar, but he's not doing it alone. The first night he'll bring along Justin Faircloth of The Houstons and Stephen Warwick; the next night, he's got Dylan Gilbert. Whether they're collaborating or doing their own thing, it doesn't matter – here's a chance to see some of Charlotte's best songwriters in a unique setting. more...
Saturday, Oct. 9
click to enlarge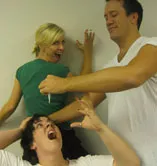 Reefer Madness: The Musical
Duke Energy Theater
Let's be blunt. Marijuana isn't quite as dangerous as some extreme church folks made it out to be in the late 1930s film, Tell Your Children. The cautionary flick – in an effort to expose the "evils" of smoking – exaggerates the drug's effects on users, who go horrifyingly insane after a puff. When rediscovered in the 1970s, potheads inhaled the humor of the flick and properly changed its name to Reefer Madness (later baked into musical and film versions that have remained an addicting cult classic hits). Be ready for a buzz when Queen City Theatre Company lights up Duke Energy Theatre with a performance of Reefer Madness: The Musical tonight.
• Festival Pizza-tossing is serious business. To avoid a disaster you need to possess culinary skills or else you might be scraping dough from the floor (and that would just be gross). Luckily, Siler Chapman, a world champion pizza acrobat, is making a special appearance to demonstrate his own tricks of the toss. You can see him during the annual Ciao, Italia! Festival – which celebrates all things Italian –at The Wachovia Atrium today. The fest will also feature cooking demonstrations, Italian language lessons, wine and cheese tastings, cultural displays and artifacts, vendors in the "Bottega," a raffle, activities for children, and, last but not least, food. more...
• Special Event This fall, talk show viewers will have more than just Jay, Conan and Letterman to watch; visual artist Fahamu Pecou plans to get in on the act with The 15 Project. A live talk show hosted by Pecou, The 15 Project features him interviewing guests (local tastemakers, celebrities and more) and providing a stage for performances, among other cool stuff/activities. It's sure to be a good event ... so get your ass off the couch and take in some of this real-life entertainment. more...
Sunday, Oct. 10
click to enlarge
The 3rd Annual Charlotte Fine Art & Craft Show
The Park Expo & Conference Center
Art is plentiful at The 3rd Annual Charlotte Fine Art & Craft Show. Local and regional artists will be selling an array of original and handmade works, such as paintings (like the one pictured by Wan Marsh), glass, sculptures, jewelry, photography and more. You can buy or browse, but either way, you'll most likely leave inspired.
• Festival The 20th Annual Latin American Festival – happening today at Symphony Park – showcases the traditions of the Caribbean, Central and South America. This includes dance and music (including performances by Plena Libre, Locos por Juana, Elastic Bond, Orquesta Gardel, Rhythm +, Bakalao Stars and SoulBrasil), activities for children, food and more. more...
• Theater For most of us, when we think of Dolly Parton, we think of country music. But the longtime star (also known for her figure) also has Broadway ties. Her feature film, Nine to Five was adapted into 9 To 5: The Musical and features original scores by the songstress. You can see the empowering show – about three women who take action and climb their way to the top of the work place – at Ovens Auditorium tonight. more...