Check out these events going down in Charlotte and the surrounding area this weekend— as selected by the folks at Creative Loafing.
Friday, April 1
click to enlarge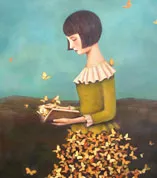 Inhabitants & Happenstance
Lark & Key Gallery
Local artist and co-owner of Lark & Key Gallery, Duy Huynh never ceases to capture my attention with his dreamy paintings loaded with clever captions. In the gallery's latest exhibit Inhabitants & Happenstance, you'll find new acrylic paintings by Huynh (like the one pictured, which is titled "Metamorphosis of a Metaphor" — see what I mean?).
• Dance Reaching 40 is a milestone, but Garth Fagan Dance had no trouble hurtling over the hill. The dance troupe based out of New York — and founded/choreographed by Jamaican native Garth Fagan — draws inspiration from Afro-Caribbean, ballet and post-modern dance techniques. Mid-air splits and flowing moves combine with body language and music for a deeper construct that goes beyond footwork by venturing into contemplative territory. more...
• Music Trance/electronic enthusiasts visit Phoenix tonight as Brit DJ/musician/producer Matt Darey invades. When he's not busy with his weekly podcast or recording in a studio, he's hitting the clubs to spin up a mix of pulsating sounds. With Kevin Focus. more...
Saturday, April 2
click to enlarge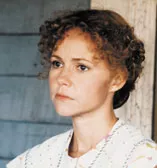 Places in the Heart
Main Library
The "Family Portraits" film series continues today, but the previously scheduled Leolo has been replaced with Places in the Heart. Set in the South during the Great Depression, this film tells the story of a mother (Sally Field) struggling to keep her home and family together. She takes her chances with a cotton farm, putting her trust in two unknown men, an African-American wanderer named Moze (Danny Glover) and a blind war veteran named Will (John Gavin Malkovich). Winner of two Academy Awards (Best Actress for Field and Best Original Screenplay for writer-director Robert Benton), this dramatization is a fine example of what family means.
• Nightlife There's a reason Big Mammas House of Burlesque's latest themed show is Sci-Fi Burlesque Fantasy. Not only is the genre one of the most bizarre, but its heroes and, more importantly, heroines are usually steaming hot. In skintight attire or hardly any at all, they make us want to live in a galaxy bombarded with evil monsters and invading aliens. This Saturday, Visulite Theatre becomes a futuristic frontier with burlesque from Big Mamma D and an entourage of other lust worthy ladies — both local and regional (White Lightnin Burlesque will journey from the depths of Knoxville, Tenn.) — dressed as your favorite characters (Think Princess Leia in a bikini). more...
• Art The balance of black and white is key in Culture Initiative's latest exhibit, Contrast at Baku Gallery. Artists were asked to create two 12x12" canvases using both shades to represent contrast. Abstract, surrealist and mixed media works, along with other mediums, will be on view. more...
Sunday, April 3
click to enlarge
The Colored Museum
Duke Energy Theatre
Take a trip back in time with On Q Productions. Its latest take to the stage The Colored Museum is set on an airplane that lands at different museums — each remembering significant periods in time related to African-Americans. From slavery days and the Civil Rights Movement to present day, the vignette-like pieces carry a powerful message.
• Food Visit Carnitas Guanajuato Mexican Restaurant for the torta ahogada, a finely crafted version of the popular sandwich in Guanajuato. The usual suspects are offered as well as tacos, sopes and burritos too. more...
• Comedy It's Funny First Sunday at House of Jazz. Join hosts Nick Lewis & DS Sanders for a night of laughs and music. more...