click to enlarge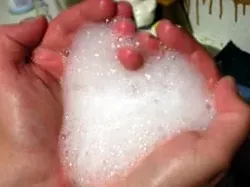 Ever wonder what happens to that half bottle of hotel shampoo you leave behind? Well, most likely it was thrown away. But now, there's an organization willing to collect those half bottles and distribute the unused soap to people in need.
From MediaBistro:
Another Earth Day has passed, but our love for creative recycling initiatives—from tires to crayons to library books—endures. Today we offer three cheers to Starwood Hotels, whose brands include St. Regis, W, Westin, and Sheraton. The company has joined forces with Orlando-based Clean the World to collect and recycle soaps, shampoos, lotions, and other fragrant unguents distributed to guests in as many as 500 Starwood hotels in North America. This marks the first corporate agreement for the two-year-old nonprofit organization, which distributes recycled soap and hygiene products to children and families in regions with high rates of acute respiratory infection and diarrheal diseases, the top two killers of children worldwide.
Read the rest of the post, by Stephanie Murg, here.
That's excellent, isn't it?
Now, stop stealing hotel soap. You know you don't need it — but there are plenty of others who do.