Check out these events going down in Charlotte and the surrounding area this weekend— as selected by the folks at Creative Loafing.
Friday, May 6
click to enlarge
Talib Kweli
Amos' Southend
What can you say about an artist whose career is aging like a fine wine? Talib Kweli may be more popular now than he ever was with Mos Def in Black Star or Hi-Tek in Reflection Eternal. Certainly the commercial success is nice but his flow hasn't dipped a bit, and if anything, is more honed now on Gutter Rainbows than it was when he was spraying the streets with bar after bar of incredible lyricism.
• Theater Sometimes, you just gotta have faith. That's what Starving Artist Productions — the theater group behind past productions of The Birth — is doing while staging Irish playwright Brian Friel's Faith Healer. Three characters reflect on the 20 years they've spent together traveling the countryside of Scotland and Wales: Frank a faith healer, Grace his wife and Teddy the booking agent. Play contains mature themes and some pretty strong language. more...
• Visual Art By the looks of her realistic oil paintings, Diane White likes some pretty darn tasty things. The Pittsburgh artist — whose works are currently being showcased in the Classic Beauty exhibit at Elder Gallery — creates still lifes of high-piled coffee cups from namely chains, Chinese takeout and more traditional seen-on-canvas items, like fruits and vegetables. The only thing missing is the smell. Opening reception tonight. more...
Saturday, May 7
click to enlarge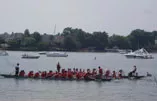 Charlotte Dragonboat Festival & Asian Festival
Ramsey Creek Park
Fire may be what we typically associate with dragons, but during the Charlotte Dragonboat Festival & Asian Festival you get just the opposite. The annual festival's main event is a showdown of dragon-decored canoe-like boats — powered by about 20 paddlers and one drummer — in the heart of Lake Norman. If that's not enough to get you fired up, there's also displays on Asian cultures, music and dance performances, a beauty pageant, food from vendors and other activities.
• Sports Charlotte Roller Girls look so nice when they're smiling. It's almost hard to imagine them — theirs faces focused and serious during bouts — clobbering their opponents during a heated, action-packed jam. This weekend, you can see their game face during a double header at Grady Cole Center. Charlotte Roller Girls All-Stars take on the Low Country Highrollers All-Stars, while Charlotte Roller Girls B Dazzlers challenge the Low Country Highrollers Bruisin Betties. Show your support to get the girls smiling again. Scoring passes and grand slams should do the trick. more...
• Festival The Beer, Bourbon & BBQ Festival at Symphony Park combines three attractive indulgences. Beers, bourbons and barbecue will be available in monumental portions for sampling. In addition, there's cigar bars, artists and memorabilia, live music, contests and more. more...
Sunday, May 8
click to enlarge
Su Casa
Dharma Lounge
Presenting, once again, Su Casa — the nightlife event formerly known as Mi Casa. Along with a new name, this time around, the monthly multimedia shindig (featuring photography, film, and a genre-bending mix of music) serves up the fresh sounds of two world-class local DJs: That Guy Smitty and DR. Oh and there are tons of other surprises, too — such as live figure drawing … bring your pencils, pens and paper — so, don't miss out.
• Comedy Marcus D. Wiley's special Mother's Day comedy show is suitably titled, "Oooh I'ma Tell Momma." The jokes revolve around memories of 'momma,' from her crazy rules to home-style cookin'. more...
• Food Want to do something nice for your mother? Then, don't make her cook today. Instead, head on over to Mez for Mother's Day Brunch. Breakfast selections, salads, prime rib, leg of lamb, ham, seafood, pastas, sweets, an ice cream bar and more. Sounds good, huh? more...