Check out these events going down in Charlotte and the surrounding area this weekend— as selected by the folks at Creative Loafing.
Friday, May 20
click to enlarge
Chess
Duke Energy Theatre
Queen City Theatre Company has enough intuitive to calculate smooth moves in its staging of the cult rock musical Chess. Director Glenn T. Griffin will star as Soviet chess master Anatoly Sergievsky who battles the American Freddie Trumper in a world championship set during the height of the Cold War. But it's not all about the game. Even more important is the fierce competitiveness to win over the love of a beautiful woman. Piece by piece, it all comes together with music by Björn Ulvaeus/Benny Andersson.
• Special Event Between NoDa's gallery crawl and The All Arts Market (happening at Neighborhood Theatre), folks have more than enough ways to get their art fix. Browse a number of tables decked out with cool, local hand-made goods. Also, check out Pimp my Rack — a public art exhibition featuring six local artists who will paint bike racks live. There will be beer from New Belgium Brewery and a chance to win a custom designed bicycle. more...
• Art T-shirts are a dime a dozen, but every now and then one comes along that leaves a lasting impression. During Gallery Up's Social T-shirt Invitational you'll find a collection of limited edition, original T-shirts. Ten artists specially designed the threads for the display. more...
Saturday, May 21
click to enlarge
The Evening Muse & Neighborhood Theatre
Now in its fourth year, FemmeFest continues to not only be a showcase for women in music, but a showcase for local musicians as much as nationally touring artists. This year's will feature performances by Jennifer Knapp, Elizabeth & the Catapult, Charlotte Parrott, Donna Duncan, Grown Up Avenger Stuff, HuDost, Natalie Royal and many more.
• Benefit The Deltas of Charlotte Foundation will hold its 7th Annual Bachelor Auction, themed "Heat: Charlotte Knights of Fire." At the event, there will be both silent and live auctions. Best of bidding! more...
• Music Acclaimed instrumentalist Chris Botti joins the Charlotte Symphony (with Albert-George Schram conducting) in jazzing up Belk Theater. Botti — whose award-winning successes include multiple Gold, Platinum and Grammy Awards — is a true master at the mouthpiece. He transforms the trumpet into what seems to be an entity of its own. more...
Sunday, May 22
click to enlarge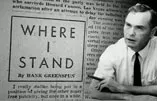 Where I Stand: The Hank Greenspun Story
Levine Jewish Community Center
In case you missed (or just can't get enough of) the Charlotte Jewish Film Festival back in March, Levine JCC is offering a special encore screening of the previously shown and well-received documentary.
• Music In recent years, Steve Martin is starting to be known more for his talents on the banjo than for his comedy. It's well deserved, too. The award-winning musician is a damn fine picker and the more time he spends on stage as a musician, the more comfortable he gets. Sure, there's comedy mixed in, but these shows are all about the music. Check him out with The Steep Canyon Rangers at Ovens Auditorium. more...
• Food Big Ben British Pub & Restaurant's full-on English breakfast offers sausages, British bacon, baked beans, potatoes, mushrooms and more. And for those of you who wake up late, it's served until 2 p.m. more...