click to enlarge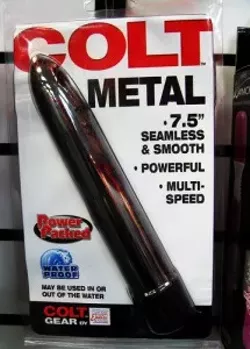 Are you giggling? Have you ever thought about this serious issue, you know, seriously? You should.
People worry about what they stick in their mouth — food wise, that is; fat, calories, et al — but get all goofy if you want to talk about what's going into their other orifices. We shouldn't, though. In fact, we should stop being so ridiculous about talking about sex in general in America, but that's a blog rant for another day.
Back to vibrators: There's a new database that can help you find out if your favorite kinky toys are harmful or not: SaferProducts.gov.
Bad news: The site covers a long list of consumer products, not just sex toys ... so don't get too excited.
Here's more on the updated database from Scientific American:
It's entirely possible that someone's favorite cyclotron vibrator can shell-shock nerves, penis rings might lead to a grievous case of penile gangrene or those little vibrating beads could slip upstream and become tragicomically lost in bodily cavities while still in the "on" position.

Not only is it possible, it happens. Yet the same manufacturers go on making the same poorly designed sex toys, and people go on using them in the same poorly informed ways. Education and regulatory oversight are in short supply.

Plus, there's the whole "Who, me?" issue.

"If somebody has an unsafe hair dryer, they aren't going to hesitate to call an attorney and sue about it," says Zach Biesanz, a class action litigation attorney in New York City and author of a 2007 paper, "Dildos, Artificial Vaginas and Phthalates: How Toxic Sex Toys Illustrate a Broader Problem for Consumer Protection," published in Law and Inequality: A Journal of Theory and Practice. "Nobody is embarrassed about using a hair dryer."

Not so for sexual-enhancement devices, which in several states are deemed "obscene devices" and banned from sale (although possessing them is perfectly legal).
Read the entire article, by Regina Nuzzo, here.