click to enlarge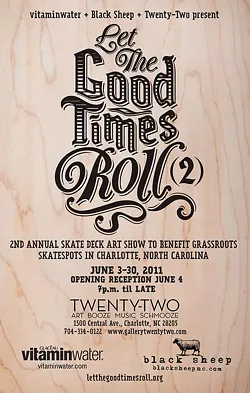 With so much focus on big issues like raising money for tsunami-stricken Japan and settling political unrest in Africa and the Middle East, it is easy to sometimes overlook issues going on right in your community.
It may be surprising to hear that this is especially true when it comes to issues involving skateboarding, a rather under-appreciated skill that is becoming increasingly popular among teens and adults alike.
In an effort to raise awareness about the lack of safe, legal areas for skateboarding, Twenty Two Art Gallery, vitaminwater and Black Sheep are coming together to host Let the Good Times Roll art exhibit this Saturday at Twenty-Two Gallery.
The art charity event will feature the artwork of more than 75 artists using blank skateboard decks as their canvas.
But these artists aren't going to be slinging around paint on skateboards just for the hell of it. Their artwork will be sold to raise money for the Letthegoodtimesroll.org skate spot awareness campaign and to fund possible future public skate park initiatives.
Josh Frazier, owner of Black Sheep, an independent boutique featuring limited edition men's apparel, shoes and skateboards, said in a press release that he has been skateboarding for 25 years and has witnessed its' sharp increase in popularity in the Queen City.
He said he has also been witness to the growing frustrations of area businesses, police, parents and skateboarders over the lack of safe places to skateboard.
"With the Let the Good Times Roll movement, we are committed to raising awareness to this community issue and taking a proactive and progressive approach toward a solution which benefits all parties," Frazier said.
This is the second annual Let the Good Times Roll event, and last year's event raised between $4,000-$5,000 to benefit the organization and literally let the good times roll.
The artist reception will be held at Twenty-Two Gallery at 1500 Central Ave., on Saturday June 4 at 7 p.m.