click to enlarge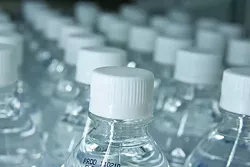 Time magazine recently published an article pointing to the perils of a water bottle habit, and that minority families are more likely to only drink bottled water.
What the article doesn't discuss is how much plastic is wasted on water bottles, nor does it link plastic to petroleum -- which is used to make plastic.
Here's a snip from the article:
Americans quaff nearly 10 billion gallons of bottled water each year, in large part because they assume, wrongly, that it's healthier and safer than tap water. Somewhat surprisingly, the data has suggested, underserved black and Latino families tend to spend more money than whites do on bottled water, and provide it exclusively for their kids.

The study's authors, from the department of pediatrics at the Medical College of Wisconsin, report that African American and Latino parents were three times more likely to give their children bottled water exclusively, compared with white parents. When questioned about their habits, minority parents reported that that they thought bottled water was cleaner, safer, healthier, more convenient and better tasting than tap.

In fact, the study author's note, bottled water may be prone to bacterial contamination. A National Resources Defense Council investigation found that 17% of bottled waters had bacterial loads that were considered unsafe; 22% were tainted with enough chemicals, including arsenic, that they wouldn't pass the strictest state standards.

What's more, data have associated bottled water with diarrheal illness in kids: a 2010 study found that 45% of children who sought treatment for severe diarrhea drank only bottled water. And kids who use bottled water exclusively in place of tap may not get enough exposure to fluoride, which can affect their oral health. (It's worth noting, too, that about one-quarter of all bottled waters are actually just tap water, repackaged — regardless of the pure mountain spring on the label.)
Read the entire article, by Meredith Melnick, here.
You should also check out Charlotte-Mecklenburg Utilities' annual water quality report, just released for 2010. This link will also take you to the Spanish-language version of the same report as well as to reports from years past. To sum up: "Our drinking water meets and exceeds all state and federal drinking water standards," the cover of the report boasts.
While that may be true, there are some substances the feds and the state don't require the city or county to test for, and the report failed to offer an update on the reservoir expansion at the Franklin Water Treatment plant on Brookshire Boulevard in west Charlotte, which has been underway for quite some time.
Still, the point is, given our options, using a refillable stainless steel — not aluminum — bottle, and filling it from your tap is better than drinking bottled water. Even better: Use a water filter at home.
Further reading: Why recycling plastic bottles doesn't help the problem — TreeHugger