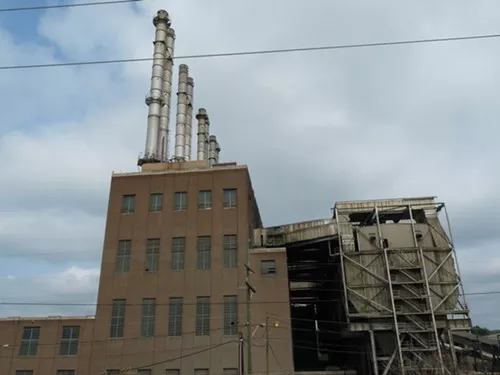 Duke Energy's Riverbend Coal Plant, situated 12 miles from Uptown
In case you missed it, American Public Media's "Marketplace" did a feature on the history of coal called "Power and Smoke: A Nation Built on Coal."
Of course, it could also be called, "Power and Smoke: A Company Built on Coal."
Charlotte's Duke Energy, after all, got its start right here on the Catawba River. One of its oldest, if not the oldest — it will be 82 years old this Oct. 29 — coal plants is Riverbend, which is situated about a dozen miles from Uptown on Mountain Island Lake (aka our drinking water reservoir). It's the one with the two unlined, high-hazard coal ash ponds that soak in our ground water and drain into our drinking water.
Here's more on the history of coal:

Coal has shaped America's history, but its power has come at a price. As Americans use more electricity, we keep burning more coal.

A coal miner operates a coal loading facility at the Mathies coal mine on August 26, 2001 in Western Pennsylvania. The mine closed in 2002.

Kai Ryssdal: This probably isn't what you want hear during a summer that's brought the kind of heat most of the country's had this year, but all that A/C we've been using? Not good at all for the planet. Forty-five percent of the electricity we use in this country for, say air conditioning, comes from burning coal. When you burn coal, you get things like mercury in the atmosphere as a result and carbon dioxide, greenhouse gas enemy number one. But power from coal does have two thing going for it. It's cheap and it's abundant. Which is why, forget foreign oil, we've got a coal addiction in this country.
Read the entire article, by Catherine Winter, (or listen to it) here.